Pugh's Flowers provides same day delivery to all Memphis area funeral homes, mortuaries and churches.
Pugh's Flowers is a family owned and operated floral design firm with more than 40 years of experience designing and delivering flowers. We service mainly in the Memphis and Bartlett Tennessee area.
Our company operates four floral design centers in the greater Memphis metropolitan area and we employee a super talented group of designers and support personnel. Our design team is well known for their unique, artistic and creative floral designs for any occasion including Memorial Service Flowers.
We are proud to offer all Shoppers that visit the Pugh's Flowers website with a great online experience. They are treated to an amazing volume of product selections to choose from. We have flowers for all occasions including Memorial Service Flowers.  As you shop, our floral design team will be standing by to consult with you on the best flower to address your need.
We are experts on Memorial Services, Celebrations of Life and sending Sympathy Flowers to friends or loved one's. Types of services vary depending on the request of the deceased or family choices. Below are some of the well-known Funeral types.
Celebration of Life
Many families are opting for a celebration of life ceremony as an option to a more traditional funeral.  Often these ceremonies take place in alternative locations from the funeral home or church. They are sometimes held in restaurants, parks, pubs, sporting facilities or other venues that were a favorite destination of the deceased. While there is still the element of mourning, these celebrations are more festive and try to focus on the life and times of the departed.
All the positive aspects of the person's life are celebrated. Things like unique talents, generosity towards others, exciting destinations they traveled to, and other noteworthy accomplishments are themes for the celebration.  The caring and compassionate Pugh's Flowers team will help you with that celebration of life. Our festive and tasteful flowers will add so much more happiness to your event.
Traditional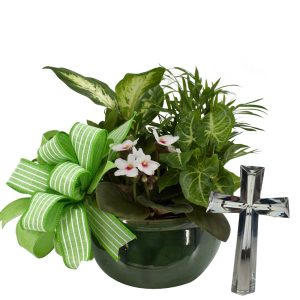 These services have been in existence for generations and are more of a solemn event. Typically, the service is held in a funeral home, church, crematorium or chapel. It can involve an open or closed casket. Open caskets are most common in the US and allows the attendees to say a final good-bye to the deceased. Often family or friends are asked to address others with a tribute to the life of the person.
Our professional floral designers at Pugh's Flowers  will prepare the most stunning flower arrangement to add dignity and beauty to this respectful and solemn ceremony. We know the business and have assembled a team of talented, caring and passionate professionals. We take pride in our work and leave our customers completely delighted with their floral product purchases.
Direct Burial
For personal financial or other reasons, families my elect for a direct burial.  In these situations, the deceased is buried shortly after death and there is not a funeral service or other formal ceremony. Direct burial is a more affordable funeral option. Reasons being there is no embalming of the body and less expensive caskets are used.
Cremation or Direct Cremation
In a Cremation there is most often a viewing as part of the funeral service prior to the actual cremation. Then with Direct Cremation, there is no viewing.
Below are some popular flower types for Funeral and Sympathy purposes.
Forget-Me-Nots – The meaning of this flower is obvious. It symbolizes the deceased loved one continues on in memories.
Roses – Red roses express love and respect. Pink roses are a sign of appreciation and grace.
Lilies – By far the most common funeral flower is the White Lily. These symbolize the spirit of a loved one and it offers hope and encouragement to a grieving family.
Carnations – Carnations are another popular choice. A white carnation represents purity and innocence while pink carnations convey remembrance.
Chrysanthemums – The white chrysanthemum is often used to symbolize grief.
Gladioli – Signifying strength and character in life, the gladioli flower is a wonderful choice
Orchids – This delicate flower references the message "I will always love you".
Hydrangeas – It is not always necessary to send flowers and sometimes a potted hydrangea plant is a good option.
Daffodils and Tulips – Daffodils and tulips represent renewal which is message of encouragement and hope to a grieving family.
EUROPEAN DISH GARDEN WITH CROSS
This beautiful gift comes with an assorted of green plants as well as blooming plant all potted together in one container. Our designer will dress it up with a lovely bow that compliments the blooming plant. It will also come with a keepsake crystal cross!
Pugh's Flowers Memorial Service Flowers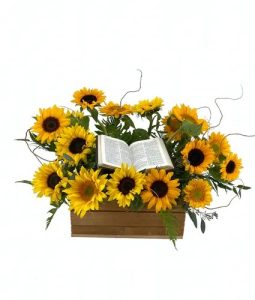 Pugh's Flowers can prepare simple or elaborate funeral pieces, custom casket covers and side pieces for funerals at any funeral home in the Memphis area, including Germantown, Collierville, Horn Lake, Southaven, Hernando, Olive Branch, Millington, Arlington, and anywhere in between.
Pugh's Flowers offers the best selection of sympathy and funeral flowers in Memphis, Tennessee. We provide same day delivery to all Memphis area funeral homes, mortuaries and churches.
If a funeral is cancelled, send a gift basket or bouquet to their home. The family needs to know now, more than ever, that they are loved.
SUNFLOWER BIBLE HOLDER
This arrangement has a stand inside where a Bible, book or photo can be placed. We will surround it with sunflowers s to show off your special keepsake. This one is only available in our local delivery areas. This does include a brand new keepsake Bible, the perfect gift for a grieving family member.
Pugh's Flowers offers the Best Memorial Service Flowers
Main Location
2435 Whitten Rd.
Memphis, TN 38133
(901) 405-6670