Pugh's Flowers has numerous times been voted Best Florist in Memphis and Olive Branch
When we have a "best friend" or friends it is a fortunate thing and you want to show appreciation. This special person may be a life long friend since childhood or someone you met later in life. Either way, they are an important part of your life and bring you great joy. One nice way to celebrate National Friends Day on June 8th is to send a fresh flower bouquet from Pugh's Flowers. We have fresh and festive National Best Friends Day Flowers.
The history behind the origination of this day is that in 1935 Congress decided this was a significant enough cause to declare June 8th as National Friends Day. In addition, Congress wisely selected the summer season as the best time to desiginate this special day. This season is typically the best time weather wise and schedule wise for people to celebrate.
Reasons for celebrating National Best Friends Day are pretty obvious. These people are special in your life and you want them to know you appreciate them. However, like many other occasions or life events, there are some research studies that indicate there are health reasons for celebrating.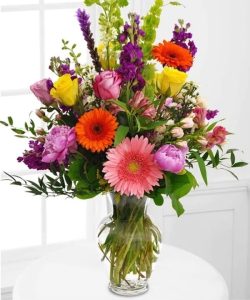 For example, studies have shown that 22% of people have a longer live span when they have a group of close friends. Of course there is a relationship to depression and anxiety as people who spend time with their friends generally have less of these issues.
Send Flowers – Obviously our favorite. Our Floral Designers have created beautiful bouquets that are sure to brighten anyone's day!
Send a Card – Cards are always a welcome thing to receive. Plus a handwritten note means you took the time to express your feelings about the deep friendship you share.
Phone Call –  In today's fast paced world with Social Media and Texting, taking the time to call someone directly can mean so much. Take the time to call your best friend and let them know you are thinking about them.
Meet for Coffee – Contact you friend and set up a time to meet at the local Coffee Bar. Laugh and reminisce or just talk about what is going on in your lives. If coffee is not a favorite, there is always brunch, lunch or dinner.
Gift Surprise – Even the smallest gift means you took the time to shop for your best friend.
Post a Photo – Regarding Social Media, there are plenty of platforms where you can post a favorite photo of you and your best friend. Maybe it is at a place you both shared great memories like a beach vacation, cruise or wedding etc.
DELIGHTFUL BOUQUET
COVID-19 Update: We're still delivering your love! During checkout, you will be offered "No Contact Delivery" for local deliveries to help ensure the health and safety of our community.
NOTE: Picture is the large sized vase. Small and medium will be similar but less stems according to price.
Flowers of all colors and types are artfully arranged in a clear glass vase and are always a favorite for their beauty and longevity. This one comes in three sizes, the more you spend, the more stems will come in your gift! Flowers and stems will vary according to availabillity.
Pugh's Flowers Offers Fresh and Beautiful National Best Friends Day Flowers
Pugh's Flowers has been voted Best Florist in Memphis and Olive Branch on numerous occasions. We offer the best selection of farm fresh flowers, plants and occasion themed gifts in town. Our floral buyers ensure that we always have plenty of beautiful fresh flowers in stock and ready for same day delivery. The flower varieties we sell include;Alstroemeria, Asiatic Lilies, Azaleas, Bird of Paradise, Carnations, Cymbidium Orchids, Daisies, Gerbera Daises, Hydrangea, Orchids, Oriential Lilies, Poms, Red Roses, Lavender Roses, Yellow Roses, Stargazer Lilies and Tulips
Popular Flower Varieties Requested From Pugh's Flowers
Gorgeous White Lilies
Ecuadorian Red Roses
Exotic Anthurium
Tropical Banksia Protea
Yellow Long Stem Roses
Olive Branch Gerbera Daisies
Mississippi Sunflowers
Lavender Asters
Same Day Flower Delivery To These Olive Branch Area Hospitals
Our delivery staff at Pugh's Flowers has years of experience delivering to area hospitals. We have been delivering get well flowers to Memphis and Olive Branch hospitals since 1976, We encourage you to shop our get well and hospital flower collection online.
If you don't see the exact flower arrangement you are looking for, please call one of our flower shops. Custom get well flower design is available. In addition to beautiful get well flowers, we also offer the best selection of live green plants, flowering plants, succulent plants and get well themed gifts in town.
BLUSH LIFE PLUS SOY CANDLE
Our best selling Blush Life Bouquet is full and feminine and comes with a delightfully fragrant soy candle made by Magnolia. It is perfect for a birthday gift, get well wishes, a thinking of you surprise and more! Flowers and stems will vary according to availability.
Pugh's Flowers
Main Location
2435 Whitten Rd.
Memphis, TN 38133
(901) 405-6670