Pugh's Flowers offers the best selection of your summer favorites in Memphis
Be ready to celebrate the start of the summer season on June 21st by purchasing Summer Flowers and Plants from Pugh's Flowers.  Our arrangements are perfect for inside your home and outside on your patio. Flowers and Plants are a great way to get into the spirit of the season and to make your home beautiful.
Our very skilled and passionate floral designers at Pugh's Flowers have been busy creating festive and dazzling arrangements to help you celebrate Summer!  Flowers make every summertime celebration better.  Whether you are taking your party to the lake, lounging by your backyard pool or serving dinner on the patio with your favorite music, visit us at Pugh's Flowers to purchase your flowers. They will surely add that special elegance to your home.
While summer is clearly the hottest of the four seasons, for many people it is their favorite time of year. A time for summer breaks from school, vacations with family and many outside activities.  In the Northern Hemisphere, summer is defined as the months of June, July and August. However, in the Southern Hemisphere summer occurs during the months of December, January and February.
The summer solstice is the moment the Sun travels its greatest distance through the sky. This day of course has the most daylight of any other day in the year and therefore referred to by many as the longest day of the year. This actually marks the beginning of the astronomical summer, but we have already felt the warmer temperatures of summer for several weeks. July is typically the hottest day of the year because there is about a one-month lag between the solstice and the hottest temperatures.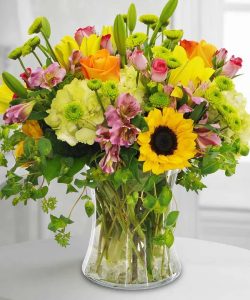 As you shop for summer flowers and plants, below are some popular varieties to consider:
Sunflowers – These are beautiful in a vase. Our Sunflowers are shipping directly from growers and are picked before insects or other conditions have caused any damage.
Daisies – The Daisy Flower is long lasting and a family member of the Chrysanthemum. There are many varieties and colors. Daisies make great bouquets and look nice in a garden.
Roses – There are countless varieties of roses. Our roses are fresh and beautiful. Nothing smells better than a fresh rose bouquet inside or on the patio.
Daylily – Flowers of the Daylily come in several colors and have ruffled petals. They require full sun.
Cuphea – Frequently referred to as the firecracker plant, the Cuphea is a hummingbird magnet. It has bright red and orange flowers and does best in full sun.
Marigold – Needing full sun, the Marigold is a longtime favorite flower. It is very durable and resists insects.
Fan Flower – A wonderful spillover plant, the Fan Flower needs full sun. It produces lovely flowers in colors of pink, purple and white.
Ranunculus – Resembling roses and peonies, the Ranunculus requires full sun. In extreme cold the bulbs can be stored indoors and replanted in the spring.
Portulaca – Very heat and drought resistant, the Portulaca is a low-growing succulent. It is best used in rock gardens and in full sun.
Lantana – The Lantana flower comes in yellow, purple and pink. It is extremely heat and drought resistant.  The sweet-smelling blooms attract butterflies and hummingbirds.
Lavender – A perennial plant the Lavender does best in a garden setting. It requires mostly sun.
Canna – The Canna is a tropical flower that blooms all summer. They cannot survive the cold of winter, so they have to be stored inside and replanted in the spring.
Salvia – The Salvia is a fragrant flower that pollinators love. It has flowers that are pink, purple and white.
HERE COMES THE SUN
Send sunshine to brighten anyone's day! Our overflowing mix of fresh stems will do the trick! Flowers and stems will vary according to availability.
Pugh's Flowers Summer Flowers and Plants Collection
Summer Flowers are in full bloom at Pugh's Flowers. In fact, we offer the best selection of your summer favorites in Memphis. We have gorgeous Sunflowers, Full Bloom Hydrangea, Gerbera Daisies, gorgeous Ecuadorian Roses and much more. We invite you to shop online or stop by any of our four floral design centers to see all the gorgeous summer flowers now available.
We operate four flower shops in the greater Memphis and Collierville area. Including our store location in Southaven, Mississippi. Our main fulfillment center is located on Whitten Road in Bartlett. Each of our floral design locations is open to walk-in traffic.
All of our shops have beautiful showrooms, filled with gorgeous fresh flower arrangements. Stop by at any point during the day and we will always have some really nice flower arrangements made up and waiting for you in our walk-in coolers. In addition to the beautiful fresh flowers, we also have some great, occasion themed gifts, available for immediate purchase.
Whitten Road: 2435 Whitten Rd. Collierville, TN 38133 | Phone (901) 405-6670
Union Ave: 1882 Union Ave. Collierville, TN 38103 | Phone (901) 726-1042
Poplar Ave: 5645 Poplar Ave. Collierville, TN 38119 | Phone (901) 682-2501
Southaven MS: 3075 Goodman Rd. Suite 14 Southaven, MS 38672 | Phone (662) 342-1832
Same Day Flower Delivery in Collierville Tennessee
Pugh's Flowers offers both local and nationwide delivery options. Locally we offer same day and express flower delivery service. Nationally, we offer same day flower service. We have a team of delivery drivers on staff. We also own a delivery courier firm called Lickety-Split Couriers. They handle the vast majority of all flower arrangements that we deliver locally.
Every flower arrangement we deliver is guaranteed to arrive fresh and on-time. All come with our 100% customer satisfaction guarantee. If for any reason you don't like the arrangement that we have designed and delivered for you, please contact our floral design center and we will replace that arrangement free of charge.
Pugh's Flowers provides daily flower delivery to all mortuaries, funeral homes and churches. Our delivery staff is familiar with all of the funeral homes, mortuaries, cemeteries and churches in the Collierville area. Our standard delivery hours are 8:00 am to 5:00 pm. If you need to have a sympathy or funeral flower arrangement there by a certain time, we can take care of that for you. We encourage you to use our express delivery options in that case.
SUMMER SKY
Blue hydrangea and yellow mums and sunflowers mimic the summer sky in a delightful way. Cheerful and compact, this design is cool for summer. This one is only available in our local delivery areas.
Pugh's Flowers
Main Location
2435 Whitten Rd.
Memphis, TN 38133
(901) 405-6670