Pugh's Flowers imports the freshest cut flowers daily from around the world for our flower delivery
Pugh's Flowers is the best florist to purchase from when you need fresh Roses. Our team of award – winning Floral Designers has created rose arrangements of all types and colors.  June is National Rose Month and is the perfect time to shop with Pugh's Flowers. Not only do we offer roses, but we also have many other varieties of flowers and plants to choose from. Recently, I was provided with a sensational article regarding roses that was written by the Chairman of the Society of American Florists. There is so much great information in the article, and it is so relevant for National Rose Month that I wanted to share it.
Roses are the most popular flower in the world, with over a billion stems sold annually. Over 250 million are produced for Valentine's Day alone. They are popular because of their beautiful colors, shape and petal structure, as well as their lovely fragrance. While many landscape roses have 5 petals, hybrid tea roses, those produced for commercial cutting, can have up to 40 petals. Best of all, there are always new varieties to discover with over 150 rose species and thousands of fabulous cultivars.

June is National Rose Month, a perfect time for me to share with you some of my favorite varieties, not ranked, because they are simply too beautiful to pick a favorite.

Alabaster is a breathtaking, off-white rose with many soft, delicate petals.
Catalina warms my soul with creamy yellow petals that reveal sunshine as they open.
Ashley is a luscious pink rose that is not too pale and not too bold.
Juliet captivates me with a very interesting petal structure and perfect peach color.
Miyabi Wabara is a pink rose with a peach heart and wonderfully ruffled petals.
Free Spirit combines yellow, peach and pink in its countless petals. Just WOW!
Keep the water clean. Bacteria is our primary enemy and you can limit bacterial growth by rinsing the vase daily and refilling with water.
Cut stems with a knife or very sharp pruners. Dull scissors will pinch the Xylem and Phloem closed and restrict the uptake of water.
Use the flower food provided by your florist. The old wives' tales about aspirin and pennies are lore and not based on any science. The food is most essential during the first two water changes, so do not worry if you run out.
If a rose wilts prematurely, do not trash it. Simply give it a fresh cut and submerge the entire rose in warm water for an hour or so. It will rehydrate and look great for many additional days.

Fun fact: Most of the world's cut roses are grown in the mountains of Colombia and Ecuador. The altitude and proximity to the Equator means lots of year-round sunshine and the perfect combination of temperature and humidity.

Also, please remember that an open rose is not necessarily an old rose. Advancements in growing technology mean growers can leave the stem attached to the plant longer for better health and bloom development.

Therefore, we can deliver a fully developed, open rose that will perform well in the vase for 6-10 days. If you get one, follow my care instructions and enjoy the rose in its most beautiful open stages.

This month I hope you will join me in experiencing the joy of roses, both as a giver and receiver.  Happy Summer!

By Chris Drummond, AAF, PFCI

A third-generation florist, Chris grew up in Audubon, PA. He has been awarded Pennsylvania's Florist of The Year, and currently serves as Chairman of the Society of American Florists.
DOZEN ORANGE ROSES
This beautiful bouquet is filled with a dozen bright orange roses!
Pugh's Flowers Offers Fresh Roses for National Rose Month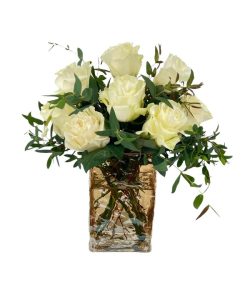 Pugh's Flowers purchases many of the roses we sell direct from the growers. Ecuadorian roses are a favorite of our design staff. These roses are longer stemmed and have gorgeous large blooms. Grown high in the mountains of Ecuador, these roses enjoy the perfect combination of sunlight, moisture and soil conditions. Producing a rose that is simply stunning. These are Available for same day or express flower delivery anywhere in Memphis.
Pugh's Flowers imports the freshest cut flowers daily from around the world for our flower delivery. We receive our cut flowers on refrigerated trucks or by direct air shipment from the ports of Miami and New York, and the fields of Southern California. Our goal is to provide the freshest product daily at reasonable prices. Teleflora ranks Pugh's Flowers as one of the nation's 100 largest floral order senders from over 25,000 member shops.
Our full-service florist has a full selection of fresh cut flowers, fruit and gourmet baskets, green houseplants and home accessories that are all available in store, via the web or by phone. Pugh's Flowers is open 7 days a week 24 hours a day by phone 888-901-6744 and via the World Wide Web. The retail locations offer delivery 7 days a week both locally (Memphis, Millington, Bartlett, Arlington, Germantown, Southaven, Olive Branch, Horn Lake, West Memphis) and nationally.
CELESTIAL WHITE DOZEN ROSES
Our dozen long- stemmed roses are upgraded beautiful in the Celestial glass vase. This vase shimmers and is very beautiful!
Pugh's Flowers offers the Best Roses in Celebration of National Rose Month
Main Location
2435 Whitten Rd.
Memphis, TN 38133
(901) 405-6670