Pugh's Flowers is ranked by Teleflora as one of the nation's 100 largest floral order senders
Make sure you are prepared to honor mom and dad this National Parents' Day with fresh flowers from Pugh's Flowers. Parents are honored annually on the fourth Sunday in July, with the special day of National Parents' Day. This year, in 2022, the meaningful holiday is July 24th. A loving time when we can all pay a tribute to our parents for their sacrifices in raising us and preparing us for success in the world. We honor parents as stable force we can lean on and know they deserve to be recognized with National Parents' Day Flowers. Of course, the best florist in Memphis to shop for flowers is Pugh's Flowers. Our Floral Designers have prepared caring bouquets and arrangements that will delight any mom or dad. And you can receive Reward Points when you shop at Pugh's Flowers.
On this day each year, numerous civic minded organizers gather nationwide to prepare celebrations to commemorate parents everywhere. This has been a tradition since 1994 when President Bill Clinton signed a Congressional Resolution that effectively created National Parents' Day. President Clinton felt it was important to publicly recognize the supporting role all parents play in the rearing of their children.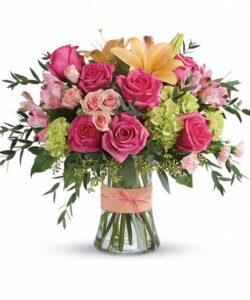 In addition to beautiful and heartfelt flowers from Pugh's Flowers, you can also do other things. For example, you can set up a backyard picnic for the family, have fun spending time researching family genealogy, do some baking with mom and then most importantly simply say thank you to mom and dad for all of the wonderful memories and sacrifices. All of these will go a long way to making National Parents' Day very special.
At some point in many adolescent lives, teenagers may feel like their parents are out of touch.  As we look back on lessons learned and sacrifices given from parents, it is easy to see that they really did understand and were very wise.
What a perfect way to celebrate a holiday. Perhaps you could arrange a small gathering for a Parents' Day party. Bring out some of your favorite photos and cook their favorite foods. They will have a good time and so will you. Not to mention you will make a new lasting memory.
We do not remember the loving care of long nights where our parents stayed up rocking us back to sleep. If you have kids or grand kids, you no doubt grasp the full personal sacrifice of sleep deprivation. And how many times when you needed a friend and unconditional love did you seek advice from a parent regarding problems at school or just in general?
So, on this upcoming National Parent's Day, find a special way to reach out to your mom and dad. Our wonderful and talented floral designers are eager to assist with the most caring flowers you will find.
We invite you to browse in store our online at Pugh's Flowers and find the perfect Flower Bouquet for National Parent's Day. If you do not see the exact arrangement, you are looking for, let a Floral Designer know and we will do our best to create your desired arrangement.
BLUSH LIFE
Bring flourishing beauty to any occasion with this delightful design of fresh garden blooms in pretty pink, green, and peach or orange hues. This design features roses, lilies, hydrangea, carnations, eucalyptus, or similar seasonal fresh favorites, designed in a clear glass vase. Flowers and stems will vary according to availability.
Pugh's Flowers National Parents' Day Flowers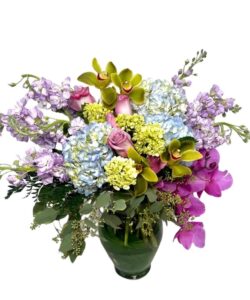 Pugh's Flowers was started in 1976 by Bill Pugh and his partner. Over the past 40 years, Pugh's Flowers has grown into one of the premier flower shops in the country. The flower shop is currently owned and operated by Tim, Michael and Mark. Bill Pugh's three sons. We operate three retail flower shops in Memphis, and another in Southaven, Mississippi. Along with our floral design business, the brothers also operate Pugh's Earthworks, Rosie's Pest Control and a new business that will be opening soon, called Pugh's Lawn.
Pugh's Flowers, very smartly, imports the freshest cut flowers daily from around the world for our flower delivery. The well-known and trusted floral industry company of Teleflora ranks Pugh's as one of the nation's 100 largest floral order senders. This is pretty high praise considering that there are over 25,000 member shops in the floral group. Our talented and experienced full-service company has a full selection of fresh cut flowers, fruit and gourmet baskets, green houseplants and home accessories that are all available in store, via the web or by phone.
Pugh's Flowers operates 4 floral design centers. We have three flower shops in Memphis and one in Southaven MS. We are open seven days per week which our customers find to be a great convenience.
YOUR MAJESTY
This stunning tropical bouquet made my Angela really is fit for a queen. It's an elegant mix of vibrant flowers set in a tall vase. It makes a beautiful addition to a modern home or outstanding office décor.
Pugh's Flowers
Main Location
2435 Whitten Rd.
Memphis, TN 38133
(901) 405-6670