Pugh's Flowers wonderful team was voted "Best Florist" in Memphis, and we carry all your favorite flower varieties
Stop in today or shop online at Pugh's Flowers and celebrate Romance Awareness Month.  Our award-winning Floral Design team specializes in creating the most thoughtful, romantic and beautiful Flower and Plant arrangements in Memphis TN. There truly is no better option for Romance Awareness Month than to purchase a beautiful Green Plant or Flower arrangement from Pugh's Flowers. Interesting, while Valentine's Day is often the only the primary day we think of as a day of romance, Romance Awareness Month each August provides a middle year reminder that romance should always be top of mind. Pugh's Flowers and our creative Floral Designers are standing by to help you select Romance Awareness Month Flowers and Plants.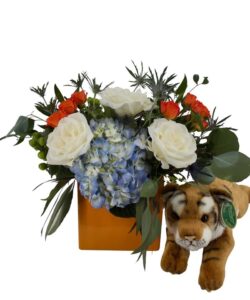 August is typically associated with extremely warm temperatures, summer vacations and starting to get ready for back to school. But did you know that it is considering by some sources to be the most romantic month of the year? Therefore, it is commonly referred to as Romance Awareness Month. This concept was actually conceived because August is six months after February which as we all know touts Valentine's Day. Arguably the most romantic day of the year. So again, this helps to keep Romance awareness high for the entire year.
If you want to do romantic activities in addition to giving beautiful Pugh's Flowers plants and flowers, below are a few unique ideas. Often it is easy to forget that sometimes it is the simple things that mean the most.
Sweets for the sweet. Surprise your special someone with their very favorite desert.
Take time to talk to one another and share perhaps their favorite trait that you just love. Most importantly, while you are talking be sure to use what some call the language of love. In other words, use language that refers to quality time, affirmation, physical touch, acts of service and receiving gifts.
How romantic an evening stroll can be? Of course, it is August so perhaps wait until sunset and bring water or some other healthy cold beverage.
Almost everyone enjoys a good movie. Pick the style you and your special one enjoys and then go to the theatre or rent a movie at home.
If you are a good writer, create a love letter or poem and leave it where they will find it.
Are you a pretty good cook? If so, delight your sweetie with their favorite home cooked meal.
You do not have to go to a loud concert or night club. Quiet time together can be very peaceful and renewing.
MEMPHIS TIGER
This beautiful orange ceramic cube matches the tiger perfectly and filled with blue and white flowers for the University of Memphis!
Pugh's Flowers Romance Awareness Flowers and Plants
Pugh's Flowers offers the best Romance Awareness Month Flowers and Plants. Our wonderful team was voted "Best Florist" in Memphis, and we carry all your favorite flower varieties. When you view our information website you will find many pages explaining and displaying our award-winning bouquets and arrangements. Our mission is complete customer satisfaction. If you do not see exactly what you are looking for, we encourage you to call our floral design center. Our Floral Designers will make a sincere attempt to create the exact arrangement you are visualizing. We offer full custom designs, to ensure customers are able to send the perfect arrangement.
When you make purchases of floral products at Pugh's Flowers, be sure to sign up for our Rewards Points Program. There are numerous benefits, and your points will help you reduce the cost of future purchases:
BENEFITS OF A REWARDS ACCOUNT
As a Rewards Points member, you earn points with every order but there are even more ways to get rewarded!
Set up 3 reminders and never forget important occasions plus FREE points!
If you loved our service, let your friends know. We will reward you both!
Upgraded designs earn more points.
Be the first to know with our email notices and receive special offers at just the right time.
Pugh's Flowers imports the freshest cut flowers daily from around the world for our flower delivery. We receive our cut flowers on refrigerated trucks or by direct air shipment from the ports of Miami and New York, and the fields of Southern California. Our goal is to provide the freshest product daily at reasonable prices. Teleflora ranks Pugh's Flowers as one of the nation's 100 largest floral order senders from over 25,000 member shops.
Our full-service florist has a full selection of fresh cut flowers, fruit and gourmet baskets, green houseplants and home accessories that are all available in store, via the web or by phone. Pugh's Flowers is open 7 days a week 24 hours a day by phone 888-901-6744 and via the World Wide Web. The retail locations offer delivery 7 days a week both locally (Memphis, Millington, Bartlett, Arlington, Germantown, Southaven, Olive Branch, Horn Lake, West Memphis) and nationally.
TRIPLE BROMELIAD
Bromeliads are one of nature's most interesting creations. We'll add three different varieties to a beautiful ceramic pot to create an interesting and quite beautiful gift. It's perfect for desk, coffee table, or centerpiece and they are easy to care for plants. This one is only available in our local delivery areas.
Pugh's Flowers
Main Location
2435 Whitten Rd.
Memphis, TN 38133
(901) 405-6670