Pugh's Flowers
Pugh's Flowers offers same day flower delivery to St. Jude Children's Research Hospital.  This medical facility is a specialty research hospital for children. They are not a general children's hospital. We focus on providing exceptional care to patients with pediatric cancer and other catastrophic diseases. Acceptance to St. Jude is generally based upon having a disease that we treat and study and may be based on potential eligibility for an open clinical trial. St. Jude Children's Research Hospital is located at 262 Danny Thomas Pl, Southaven, TN 38105.
St. Jude's is one of the largest pediatric cancer research hospitals in the world. They treat more than 8,000 patients per year and have 77 beds in operation. One main mission is to allow every child to live as typical a childhood as possible. Even those these children in the St. Jude's facility are struggling with life-threatening diseases, they deserve that compassion. The research hospital has plans for growth and plans are to add 2,300 jobs. It also includes expansion of the hospital. Last year it expanded by 625,000 square feet by adding a new cancer research center.
Curing children with cancer is serious and difficult work. This requires St. Jude to pay competitive compensation to attract and retain the best doctors, scientists, nurses, health professionals and employees of all types. Compensation for senior executives is determined by a compensation committee of the Board made up of independent directors only who are advised by an outside, independent compensation expert. Salaries target the 60th percentile of the markets where St. Jude's competes for talent whether regionally, nationally, or locally. They are proud of the cultures of St. Jude were named on the "100 Best Companies to Work For" in America by Fortune magazine for seven years in a row.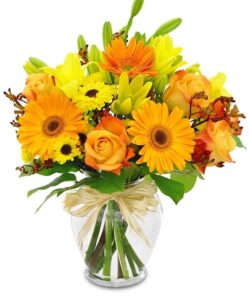 Pugh's Flowers was started by Bill Pugh and his partner. The flower shop has grown tremendously over the years. Today, Pugh's operates four floral design centers. The flower shop operations staff reports into Tim Pugh. Brother Michael handles the administrative and financial side of the business. There is a third Pugh brother. His name is Mark Pugh. He is responsible for running a thriving landscape business the family started some years ago. We employee one of the largest floral design teams in the state. Our staff is known for their artistic and unique floral designs.
The amazing and professional team at Pugh's Flowers creates traditional, contemporary and beautiful modern metropolitan floral designs. Arguably the most frequently purchased arrangement is our 1 dozen Ecuadorian Red Rose design. These roses are simply stunning! We offer the largest selection of flowers in the area. Many of the flowers we sell were purchase farm direct. We sell gorgeous Lilies, the best roses in town, beautiful Gerbera Daisies, Tulips direct from Holland (Seasonal Product), Carnations, Hydrangea, Alstroemeria, Hypericum, Anthurium and so much more. Our exotic and tropical flowers are really popular. We offer both Cymbidium and Dendrobium Orchids. Our firm designs for all occasions, including weddings and corporate events. We are large enough to handle weddings and events of any size.
FIELD PICKED AUTUMN BOUQUET
Brightly colored yellow and orange flowers expertly designed in a glass vase.
Pugh's Flowers offers gorgeous Flowers and Plants for Daughters and Sons Day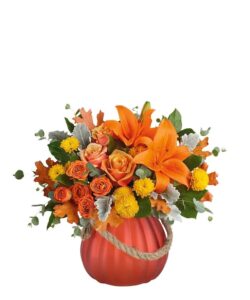 National Daughters Day is on September 25th this year and National Sons Day is observed on September 28th. These are two special days set aside to show appreciation for our daughters and sons. Parent's do their very best to raise their children and prepare them to be productive and happy adults. There are differing styles for raising boys and girls but in the end, parents just want their kids to be well adjusted and respected members of society. Much credit has to be given to both mom and dad. It takes the conviction of both parents to impart the right wisdom on their children.
There are many ways to celebrate Daughters and Sons Day. Obviously sending a beautiful flower bouquet or fresh green plant from Pugh's Flowers is a great gift. In addition, taking time to talk with your children about their school life, about their dreams and ambitions and just in general listen closely to let them know you care and will always be there for them. Going camping, fishing, shopping, golfing, to the movies or cooking their favorite meal are all wonderful activities.
GOLDEN BEAUTY
This bouquet is designed in keepsake orange glass vase and filled with elegant orange lilies, roses, spray roses, and more!
Pugh's Flowers
Main Location
2435 Whitten Rd.
Memphis, TN 38133
(901) 405-6670