Pugh's Flowers
Pugh's Flowers is a family owned and operated floral design firm. We have more than 40 years of experience designing and delivering same day flowers to Bartlett Tennessee. We first opened our doors back in 1976. Our company was started by our father, Bill Pugh. Today, the firm is run by two of Bill's three sons. Michael Pugh handles the administrative piece of the business, while brother Tim handles all of the operations duties. Brother Mark runs the family's thriving landscape business. In addition to flowers and landscaping, the Pugh family also operates a third business called Rosie's Pest Control.
Pugh's Flowers operates four floral design centers in the greater Memphis metropolitan area. We employee a super talented group of designers and support personnel. Our design team is well known for their unique, artistic and creative floral designs. We offer a wide variety of fresh flowers and sell more roses than anyone in Memphis. If you have not seen our roses, you are missing out. They come from Ecuador and have longer stems and larger blooms. They are absolutely gorgeous. We carry all of the favorite flower varieties.
Pugh's offers a great selection of occasion themed flower arrangements. We carry arrangements and gifts for virtually every special occasion & event you can think of. Many of the fresh flowers we sell come farm-direct to us. That ensures that we can offer the finest, freshest, highest quality flowers in Bartlett. We carry gorgeous Ecuadorian long stem roses, stunning cymbidium and dendrobium orchids, dazzling lilies and all your traditional favorites. Looking for something other than a flower arrangement? You have come to the right place. Pugh's has the best selection of green, tropical and flowering plants in the area. We have everything from emerald garden baskets, to hanging plants to traditional dish gardens. We also sell gourmet gift and fruit baskets. We fill them with lots of gourmet treats, including Godiva chocolates, fresh seasonal fruit and other wonderful edible delights.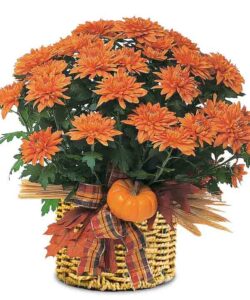 Pugh's Flowers offers same day flower delivery to all Shelby County Hospitals, Funeral Homes and Mortuaries. We also have a floral design center in Southaven, MS. We make daily deliveries in the Southaven Mississippi area as well. We invite you to do your shopping on our website. If you prefer, we also have four floral design centers available for you to come in and see our entire selection of flowers, plants and occasion themed gifts.
We operate four flower shops in the greater Memphis and Bartlett area. Pugh's also operates a floral design center in Southaven, Mississippi. Our main design and fulfillment center is located on Whitten Road, which is in Bartlett. Each of our design centers includes a beautiful customer showroom. We invite you to stop in and shop next time you are in the area. Our showrooms are filled with wonderful fresh flower arrangements, gorgeous green and flowering plants and gifts themed for all occasions.
Pugh's Flowers offers both local and nationwide delivery options. Locally we offer same day and express flower delivery service. Nationally, we offer same day flower service. We have a team of delivery drivers on staff. We also own a delivery courier firm called Lickety-Split Couriers. They handle the vast majority of all flower arrangements that we deliver locally. Every flower arrangement we deliver is guaranteed to arrive fresh and on-time. All come with our 100% customer satisfaction guarantee. If for any reason you don't like the arrangement that we have designed and delivered for you, please contact our floral design center and we will replace that arrangement free of charge.
FALL MUM PLANT
You will harvest some enthusiastic appreciation when you send this lovely, bronze cushion mum plant. Adorned with a miniature pumpkin, placed in wicker basket and tied with a bow.
Pugh's Flowers Offers Wonderful Flowers and Plants to Honor Veterans Day
On November 11th we celebrate Veterans Day. The reason for this date is that in 1918 on the 11th hour of the 11th day of the 11th month, all major hostilities of World War I were formally ended.  The day was originally termed Armistice Day and was created to celebrate the service of all U.S. military veterans. President Woodrow Wilson gave an eloquent speech in 1919 during which he commended the men and women of the United States military.
A brief excerpt from his speech goes as follows "To us in America the reflections of Armistice Day will be filled with solemn pride in the heroism of those who died in the country's service, and with gratitude for the victory, both because of the thing from which it has freed us and because of the opportunity it has given America to show her sympathy with peace and justice in the councils of nations".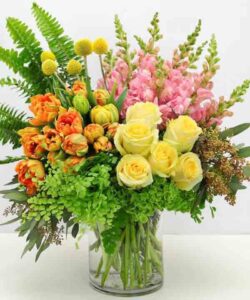 Armistice Day and Remembrance Day are celebrated in other countries as a remembrance to the end of World War I. However, in 1954, Veterans Day became the official name for our United States Day to honor our military men and women. Veterans Day differs from Memorial Day. While both days honor our military, Memorial Day is designated to honor those who died while fighting for our country. Veterans Day is designated to honor all of the military folks who have served our country.
In case you are looking for some other things you can do for a veteran, after a little research below are just a few ideas:
Donate Money – There are several organizations that support veterans, and they can always use private donations.
Volunteer your skills – If you have knowledge of a trade or financial planning etc., veterans can benefit from your volunteer teaching.
Veteran Speaker – Many veterans have wonderful and inspirational stories of overcoming adversity and never giving up. Find one that enjoys speaking to other veterans.
Hire a veteran – If you own a small business or are in a hiring position at a company, perhaps hire a veteran who is anxious to get out into the working world.
Hire a veteran's caregiver – Offering support to veteran's families is so valuable. Plus, many of these folks are incredible employees.
Do business with a veteran-owned company – Astonishingly there are an estimated 27 million veteran owned small businesses in the U.S. These companies are run by the fine men and women that defended our country. You will find some of the most trustworthy services and quality products.
SUNRISE SONATA
Brand new for Spring, our Sunrise Sonata bouquet is a premium bouquet that's cheerful and uplifting. Loads of tulips, roses, snapdragons and plenty of special greenery make this bouquet sing! It's one of our new favorites. It's only available in our local delivery area. Flowers and stems will vary according to availability.
Pugh's Flowers
Main Location
2435 Whitten Rd.
Memphis, TN 38133
(901) 405-6670