Pugh's Flowers
Pugh's Flowers offers same day flower delivery to Select Specialty Hospital Memphis.  The hospital is committed to providing an exceptional patient care experience that promotes healing and recovery in a compassionate environment. They are considered to be a top critical illness recovery hospital. That means they treat chronically ill and critically ill patients. These patients are facing serious medical condition(s), trauma or intensive care and require an extended hospital stay. Physician-led, multidisciplinary care teams support that recovery by developing a customized treatment plan that helps patients breathe, eat, walk, talk and think again.
The following are many of the medically complex conditions treated at the Select Specialty Hospital:
Pulmonary /ventilator liberation
Neurological disorders
Cardiac
Renal disorders
Infectious disease
Post-trauma care/traumatic brain injury
Surgical complications
Orthopedic care
Wound care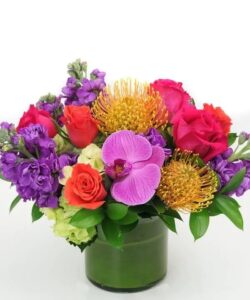 Pugh's Flowers provides same day & express flower delivery to all Shelby County Hospitals. Our get-well flowers, plants and gift collection are the best in town. We also offer get well themed mylar balloons, teddy bears and delicious edible treats. We offer the best selection of sympathy flowers in the state. Our firm provides local same day & express delivery service to all greater Memphis area Funeral Homes, Mortuaries and Cemeteries. As mentioned earlier, we also operate a floral design center in Southaven, MS. We make daily sympathy flower deliveries in Southaven, and throughout the DeSoto county area as well. We invite you to do your shopping on our website. If you prefer, we also have four floral design centers available for you to come in and see our entire selection of flowers, plants and occasion themed gifts.
Pugh's offers a great selection of occasion themed flower arrangements. We carry arrangements and gifts for virtually every special occasion & event you can think of. Many of the fresh flowers we sell come farm-direct to us. That ensures that we can offer the finest, freshest, highest quality flowers in Bartlett. We carry gorgeous Ecuadorian long stem roses, stunning cymbidium and dendrobium orchids, dazzling lilies and all your traditional favorites. Looking for something other than a flower arrangement? You have come to the right place. Pugh's has the best selection of green, tropical and flowering plants in the area. We have everything from emerald garden baskets, to hanging plants to traditional dish gardens. We also sell gourmet gift and fruit baskets. We fill them with lots of gourmet treats, including Godiva chocolates, fresh seasonal fruit and other wonderful edible delights.
TROPICAL SUNRISE
This beautiful tropical bouquet is compact and full! It will have an assortment of stems including pin cushion protea, orchids, roses, hydrangeas, and more!
Pugh's Flowers Offers Fresh and Caring Flowers and Plants to Honor Breast Cancer Awareness Month
October is designated as Breast Cancer Awareness Month. It is recognized across the world as a special time for the need to raise awareness of the disease and the importance of early detection. Every year some studies reflect an estimated 458,000 women die from Breast Cancer and 1.38 million new cases occur. Truly staggering numbers and an illness that strikes women in all countries whether developed or not. Pugh's Flowers honors this special time, and our professional floral designers are committed to our mission.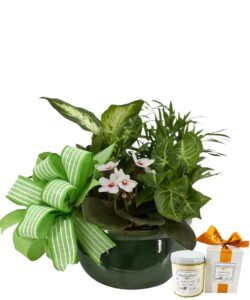 In the United States there are more than 245,000 women that are diagnosed with breast cancer each year. Over 40,000 women actually die from the disease each year. While Breast Cancer is largely a female illness, men also can be diagnosed with breast cancer but at a much lower rate of 1% of the male population. The majority of breast cancer cases in women occur at the age of 50 or older. Although an estimated 10% of all new cases in the United States occur with women that are under the age of 45.  Suffice it to say that breast cancer is relentless in its pursuit of stealing the health of many women across the globe.
The good news is while breast cancer death rates increased from 1975 to 1989 by 4%, rates have dropped rapidly since that time by 39%. Statistics reflect that nearly 322,600 breast cancer deaths have been prevented through 2015.  This was a positive trend in both older and younger women. Hopefully someday this merciless illness can be eradicated. Our professional floral designers are always eager to help you with a beautiful flower arrangement or gift guaranteed to lift the spirits of anyone close to you that may be suffering with breast cancer.
GARDEN CANDLE PACKAGE
Our small tabletop size European dish garden paired with our handmade soy candle is the perfect gift to go on a desk!
Pugh's Flowers
Main Location
2435 Whitten Rd.
Memphis, TN 38133
(901) 405-6670