Pugh's Flowers
Pugh's Flowers is a proud family-owned Florist. We have been providing same day flower and plant delivery services to Oakland, Tennessee for many years. Our floral products consist of Farm-Fresh Flowers, Green and Flowering Plants and Elegant Gift Baskets. Pugh's Flowers was voted Best Florist in Memphis, Tennessee. We are the recognized leader in floral design in Memphis and Oakland Tennessee. Each day, our delivery personnel complete same day and express flower deliveries to Oakland. We deliver to both residential and commercial buildings, including same day delivery to hospitals, churches, funeral homes and mortuaries. Same day flower delivery service is available 7 days a week in Oakland TN.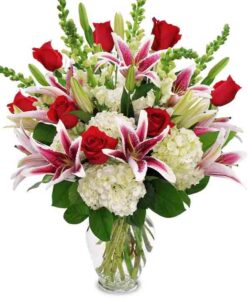 Pugh's Flowers imports the freshest cut flowers daily from around the world for our flower delivery. We receive our cut flowers on refrigerated trucks or by direct air shipment from the ports of Miami and New York, and the fields of Southern California. Our goal is to provide the freshest product daily at reasonable prices. Teleflora ranks Pugh's Flowers as one of the nation's 100 largest floral order senders from over 25,000 member shops. Our full-service florist has a full selection of fresh cut flowers, fruit and gourmet baskets, green houseplants and home accessories that are all available in store, via the web or by phone. Pugh's Flowers is open 7 days a week 24 hours a day by phone 888-901-6744 and via the World Wide Web. The retail locations offer delivery 7 days a week both locally (Memphis, Millington, Bartlett, Arlington, Germantown, Southaven, Olive Branch, Horn Lake, West Memphis) and nationally.
LASTING LOVE
The award winning floral design team at Pugh's Flowers created this large and showy bouquet. This design is over the top and beautiful. It features roses, lilies, snap dragons and hydrangea will be beautifully arranged in a tall glass vase.
Try adding our new Lux gift set! Enjoy a collection of signatures Lollia fragrance stories and discover your own signature scent.
Pugh's Flowers is ready for Black Friday, Small Business Saturday and Cyber Monday with Great Prices on Floral Products
Black Friday
Beginning in 1952, the day after Thanksgiving started to be recognized as the beginning of the Christmas shopping season. "Black Friday", as it is referred to today, has the result of retail stores turning big profits. These profits, in accounting terminology, put the retailers "in the black" instead of losing profits or being "in the red". This day is also closely watched by economists to measure the stimulus it has to the United States economy.
Since 2005, Black Friday has arguably been the busiest shopping day of the year. Many big-name retailers for example, Target, Kohl's and Best Buy to name a few, open their doors at midnight.  Retailers now try to spread the shopping out by offering promotions throughout November and December. Total dollars spent on Black Friday shopping fell in 2014 to a mere $50.9 billion. This was the first drop since the recession in 2008 and was attributed to this extension of holiday promotions.
Small Business Saturday
Small Business Saturday takes place between November 24th and November 30th. This day is one of the busiest shopping periods of the year as consumers flock to their favorite local small business vendors.  First observed in the United States on November 27, 2010, Small Business Saturday is within the same theme as Black Friday and Cyber Monday. These are days when shopping at retailers and e-commerce stores is at its height of the season. Small Business Saturday encourages shoppers to visit local businesses to make purchases. Obviously, a great financial focus for communities and the entrepreneurs that live and work there.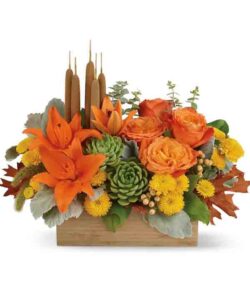 One major credit card company, American Express is a major supporter of Small Business Saturday. They actually promoted the holiday in 2010 on radio, television and Facebook. Pugh's Flowers is a one of your local and longtime community neighbors. We take extreme pleasure in supporting our community and would be honored to have you visit us online or at our convenient location. Our products are highest quality, and our talented floral designers are among the best in the industry.
Cyber Monday
Cyber Monday sometimes referred to as "Blue Monday" was created as a special day to encourage consumers to do online shopping. There is no more perfect time now to shop online in 2022 when many people would much prefer to stay in their home and shop from their computer where they are away from crowds.
This day always follows Thanksgiving and as you might guess is the Monday following.  The term Cyber Monday originated in 2005 by a member of the National Retail Federation. It was advertised in a publication as the up and coming biggest online shopping day of the year. During that year 77% of online retailers reported increased sales. By 2017 sales had grown to $6.59 billion.
CHIC FALL PLANTER
This artistic arrangement will enchant with shades of peach, orange and green – combining roses, lilies and even a succulent plant!
Main Location
2435 Whitten Rd.
Memphis, TN 38133
(901) 405-6670