Pugh's Flowers
The wonderful holidays are now over, and the stress of shopping, cooking and traveling is behind us. Occasionally for some, it is challenging to make an adjustment after the holidays because the excitement that made us so ramped up has subsided.  All of the hours of holiday preparation are behind us now so what do we do next? One great idea is to send a special thank you to all of those that made your holiday special. Pugh's Flowers has the perfect Thank You Flowers to help you with this! This is the perfect way to tell someone thank you for making your holiday special. Maybe they hosted dinner or simply made your holiday so bright by their actions and good holiday spirit. Our professional floral designers are extremely talented and will prepare a special product that will delight your friend or family member!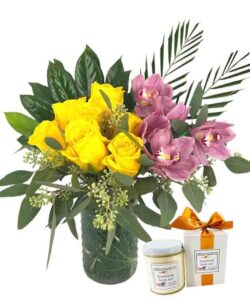 Thank You Flowers
In addition to the pleasure from giving someone Thank You Flowers, here are some other ways to perk yourself up! Just a tip, the best Thank You Flowers are Roses – White, Pink or Yellow. However, Tulips, Daisies, Lilies and Hydrangea are very nice options.
Stay busy by scheduling lots of events that you enjoy. By doing this you will be giving yourself something to look forward to.  When you do this your brain's reward system kicks in and you are naturally happier.
Do something new that you have not tried before. You can try a new hobby or take a vacation that you have been putting off. These things too will get the dopamine flowing which again creates happiness.
Stay in touch with your loved ones you just spent the wonderful holidays with. Often the separation and lack of communication once they return to their homes and lives makes us feel anxiety. Do not let that happen but instead set up appointments so there is a firm commitment that you will be communicating again soon. And yes, again the reward system in the brain engages.
Make a traditional handed down recipe different from all of the holiday foods you just enjoyed. Try to use healthy ingredients so that you are also feeling good about your diet.
Finally, another great way to put your mind on something new is to volunteer. There are many people that can use help after the holidays. No matter what you decide to volunteer for, as you work to help others you will be making yourself feel a sense of purpose.
Pugh's Flowers is here to help you get the most out of your holiday thanks with our blog discount coupons. Use these coupons to save big on flowers, holiday decor and more! Blog discounts are a great way to save money on holiday thank you flowers. These deals are available for everyone, including people who aren't already subscribed to our blog, and they're going fast! To use the coupon, simply click on the link above and enter it into the promo code box at check out. Save big on holiday thank you flowers from Pugh's Flowers by using our blog discount coupon today!
ROSES AND ORCHIDS
This high style bouquet is filled with tropical foliage, yellow roses, and multiple blooms of elegant Cymbidium orchids! This gift is sure to be unique and great for many different occasions!
Discount Offers – Use on Main Website
About Pugh's Flowers
Family-Owned Local Flower Shop Serving Bartlett Tennessee
FARM-DIRECT FLOWERS, BEAUTIFUL GREEN & FLOWERING PLANTS, GIFTS FOR ALL OCCASIONS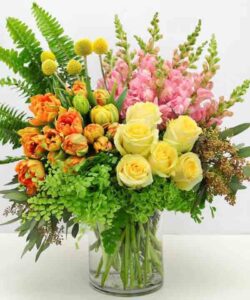 Pugh's Flowers was voted best florist in Memphis, Tennessee. We are a recognized leader in floral design in Memphis and Bartlett Tennessee. Our firm specializes in creating gorgeous fresh cut flower arrangements. We offer all your local favorites, including dazzling Ecuadorian roses, stunning oriental and stargazer lilies and exotic cymbidium and dendrobium orchids. We offer local same day and express flower delivery service. Same day flower delivery service is available 7 days a week in the greater Memphis area.
Local Same Day & Express Flower Delivery | Nationwide Same Day Flower Delivery
We have the perfect bouquets for any occasion, whether it is a New Year's Eve party or a celebration at your office. Whether you are celebrating with family or coworkers, our festive bouquets will make any event feel special. Do not forget about our same day delivery service! Our floral experts are available so that we can accommodate even the last-minute shoppers out there. We will bring your order to your doorstep without fail—no matter where in the country you live—so all you have to do is sit back and enjoy yourself.
We are proud to offer delivery to almost any address in the US. For deliveries outside our local area, we may need to substitute items in your order for something similar of equal or greater value. For example, if you order a dozen roses and they aren't available in your area at that time, we will send you an alternative flower bouquet or arrangements of your choice.
If you have questions about our holiday bouquets or need to inquire about same day delivery, give our shop a call.
SUNRISE SONATA
Brand new for Spring, our Sunrise Sonata bouquet is a premium bouquet that's cheerful and uplifting. Loads of tulips, roses, snapdragons and plenty of special greenery make this bouquet sing! It's one of our new favorites. It's only available in our local delivery area. Flowers and stems will vary according to availability.
WHITTEN ROAD
2435 Whitten Rd.
Memphis, TN 38133
(901) 405-6670
POPLAR AVENUE
5645 Poplar Ave.
Memphis, TN 38119
(901) 682-2501
UNION AVENUE
1882 Union Ave.
Memphis, TN 38103
(901) 726-1042
SOUTHAVEN, MISSISSIPPI
3075 Goodman Rd. Suite 14
Southaven, MS 38672
(662) 342-1832