Pugh's Flowers
Pugh's Flowers imports the freshest cut flowers daily from around the world for our flower delivery. We receive our cut flowers on refrigerated trucks or by direct air shipment from the ports of Miami and New York, and the fields of Southern California. Our goal is to provide the freshest product daily at reasonable prices. Teleflora ranks Pugh's Flowers as one of the nation's 100 largest floral order senders from over 25,000 member shops. Our full-service florist has a full selection of fresh cut flowers, fruit and gourmet baskets, green houseplants and home accessories that are all available in store, via the web or by phone. Pugh's Flowers is open 7 days a week 24 hours a day by phone 888-901-6744 and via the World Wide Web. The retail locations offer delivery 7 days a week both locally (Memphis, Millington, Bartlett, Arlington, Germantown, Southaven, Olive Branch, Horn Lake, West Memphis) and nationally.
We were established in 1976 by Bill Pugh and his partner. The flower shop currently is owned and operated by his three sons and has four retail locations in Memphis, TN as well as a landscape division named Pugh's Earthworks. Landscape operations are based in Memphis, Jackson, and Nashville, TN, as well as Little Rock, AR.
Flowers
Flowers are a great gift for Valentine's Day, whether it's for your significant other or the person you've been seeing. They're also a great way to say I love you if you don't have time to craft something sweet, and they can express sympathy with their beautiful colors: white for purity, red for passion and romance, yellow for friendship and hope. There are so many different kinds of flowers out there! They're pretty much guaranteed to bring joy into someone's life every day of the year.
Of course, we can't forget their practical uses—flowers make lovely decorations at weddings or any other party (especially when fresh). And did we mention that they smell amazing?
Shop Early
Valentine's Day is coming up and we know you want to make sure your sweetheart knows how much you care. Here are some great reasons to send flowers, plants and gifts on Valentine's Day:
It's the ultimate way to say "I love you" with a gift that will show them how special they are.
Flowers and plants can be delivered in an hour or less when ordered online or over the phone.
If you order before 11am EST/EDT on February 13th, your delivery will be guaranteed by Valentine's Day (February 14th).
Flowers and plants are a great way to show someone how much you care. They're an inexpensive way to boost your mood and make someone feel special.
History of Valentine's Day
So why do we even have a Valentine's Day, you may have wondered? Well history tells us it is a Christian feast day celebrating love. It is celebrated on February 14 and named after Saint Valentine, a third-century Roman martyr.
The day is also known as "Feast of Saint Valentine". The Feast of Saint Valentine was first recorded in the year 496 AD by Galesus, bishop of Terni, who noted it as being celebrated on December 20 to commemorate Pope Galesius' conversion to Christianity. In 998 AD, Lupercalia (a pagan festival) was outlawed by Pope Gregory V and later replaced with Lent, which had been adopted from the Eastern Church tradition.
The Roman Catholic Church declared February 14th an official feast day in honor of the efforts by Pope Gelasius I to end an epidemic which killed five thousand people in Rome during his papacy between 492–496 AD; he was canonized as Saint Gelasius I in 496 AD at which time he became known as "St. Valentine" or "Valentinus"—the Latin form of his name (Valentinus).
Conclusion
In summary, this Valentine's Day will not be like any other. Our flowers are extra fresh, romantic and fragrant! We have made sure that there is something for everyone with our Valentine's Day menu. So don't waste any time and order some flowers today!
Discount Offers – Use on Main Website
About Pugh's Flowers Valentine's Day Flowers & Gifts
Pugh's Flowers has the best selection of Valentine's Day flowers, plants and gifts in Memphis. This year, we recommend a dozen, beautiful Ecuadorian Red Roses. Our farm fresh roses have longer stems and larger blooms. They are absolutely stunning! We also have a great selection of Valentine's themed floral arrangements that are guaranteed to make them smile. Only the products here are available for Valentine's Day deliveries.
NOTE: Images shown are PERFECT examples of the size, colors, style and presentation of the arrangements, but some actual flowers may differ based on the freshest and brightest available product. Additionally, the arrangements are photographed with all the flowers facing the camera so you can see what is in them, but are actually designed to be enjoyed from any angle.
We Offer Nationwide Same Day Flower Delivery!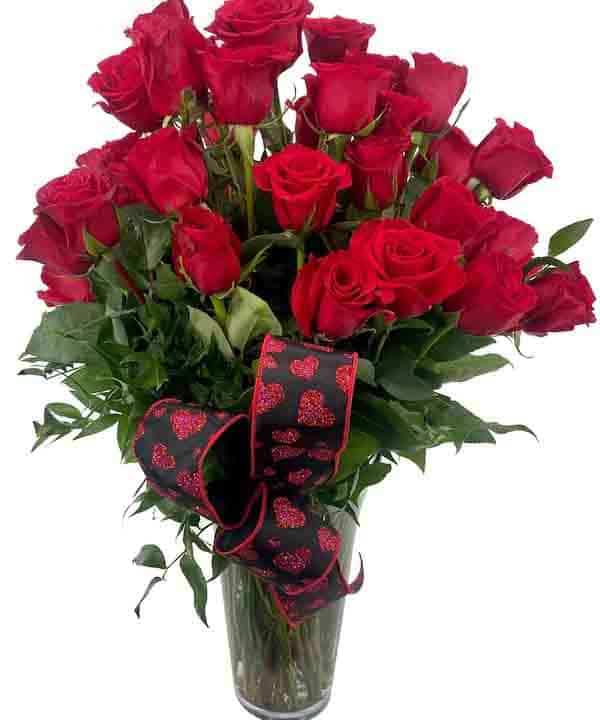 36 Red Roses 
Locations
WHITTEN ROAD
2435 Whitten Rd.
Memphis, TN 38133
(901) 405-6670
POPLAR AVENUE
5645 Poplar Ave.
Memphis, TN 38119
(901) 682-2501
UNION AVENUE
1882 Union Ave.
Memphis, TN 38103
(901) 726-1042
SOUTHAVEN, MISSISSIPPI
3075 Goodman Rd. Suite 14
Southaven, MS 38672
(662) 342-1832