Pugh's Flowers
Customers are always delighted at Pugh's Flowers because we specialize in unique, beautiful and high-end floral designs. We offer fresh and lovely flower arrangements for all occasions including Birthday Flowers. We import the freshest cut flowers daily from around the world for our flower delivery. We receive our cut flowers on refrigerated trucks or by direct air shipment from the ports of Miami and New York, and the fields of Southern California. Our goal is to provide the freshest product daily at reasonable prices. Teleflora ranks Pugh's Flowers as one of the nation's 100 largest floral order senders from over 25,000 member shops. Our full-service florist has a full selection of fresh cut flowers, fruit and gourmet baskets, green houseplants and home accessories that are all available in store, via the web or by phone.
Birthday Flowers and Plants
Do you know someone that is celebrating a birthday soon? If so, you need to consider the best way to wish your loved one a happy birthday. A great way to do this is by sending them flowers or plants. If you are looking for something special during this time, I highly recommend contacting a florist in your area for their help in selecting the perfect gift for that special person! Birthday flowers are the perfect way to celebrate. Whether you're sending a birthday gift or just expressing yourself, flowers can be an excellent way to show someone how much you care.
If your friend or family member has a birthday coming up, consider sending them some gorgeous blooms as a token of appreciation for all they do. It's also important not to forget about yourself! If your birthday falls during the summer months and it is too hot outside for anyone else but yourself (and maybe potted plants), then consider ordering online and having them delivered right onto your doorstep so that no one else knows what kind of surprise awaits them when they get home from work or school.
A few great reasons to select fresh cut flowers for your birthday celebration. You can order birthday flowers online, or you may be able to find a local florist that offers custom flower arrangements. Either way, these gifts are easy and convenient to send. You can also send your friend or loved one an email with a message attached that includes their name and age along with any other information they might want to share (for example, what they have been up to lately). This is another great way of showing how much you care about them!
The options are endless when it comes to selecting a birthday bouquet. The possibilities include flowers, plants and even fruit baskets. Flowers are a great gift for any occasion because they're inexpensive and can be customized to fit your budget. They also last longer than most gifts, so you don't have to worry about someone forgetting their special day or having the gift expire before they get around to opening it! Fresh flowers are beautiful, but some people prefer sending live plants instead because they tend not to die as fast as cut flowers do once removed from their original environment (that would be nature).
In addition, fresh herbs like basil or mint make excellent gifts if you know someone who enjoys cooking with them regularly. With so many product choices, you will be able to find the perfect fit. Whether you're looking for a gift that fits your budget or one that fits your style, we've got it. If you want to give someone something special and unique on their birthday, we have just what they need!
Conclusion
We hope that this blog post has inspired you to get creative with your birthday flowers and plants. If you have any questions, please feel free to reach out at any time! We're always happy to help.
Discount Offers – Use on Main Website
Pugh's Flowers Birthday Flowers & Birthday Themed Gifts
Pugh's Flowers has a wonderful birthday flower collection. We offer birthday themed floral arrangements that include all your favorite flower varieties. Looking for a unique birthday arrangement? Take a look at our "Flowering Birthday Cake." It looks just like a cake, but is made of gorgeous roses, mini-carnations and pompons. This arrangement is really a popular choice.
We consistently offer the best selection of Birthday Flowers, Plants and Gifts in Memphis and all of markets we serve. Our team offers local same day & express flower delivery. Our website features many great Birthday themed floral bouquets and gifts. If you don't see the exact Birthday arrangement displayed on the site that you need, please contact our floral design center. The award-winning floral designers at Pugh's Flowers can custom design the exact bouquet to fit your needs.
We locally source floral products whenever possible. When local sources aren't available, we purchase flowers direct from flowers farms and wholesalers. Every floral design we sell is guaranteed to arrive farm fresh and expertly designed. Pugh's Flowers is a family owned and operated floral design firm. We have years of experience designing and delivering flowers. Send Pugh's Flowers Birthday Flowers, balloons, and gift baskets anywhere throughout the United States, using our nationwide same day delivery service.
Our talented staff has a deep passion and love for flowers. We are blessed to employ some of the most talented floral designers in the floral industry. The Pugh's Flowers designers are eager to help you. They can custom design a birthday bouquet that will leave a lasting impression for your friend or family member. If you have any questions or need more information, please contact our floral design center. We're always here to serve you and make your flower-sending experience a pleasure.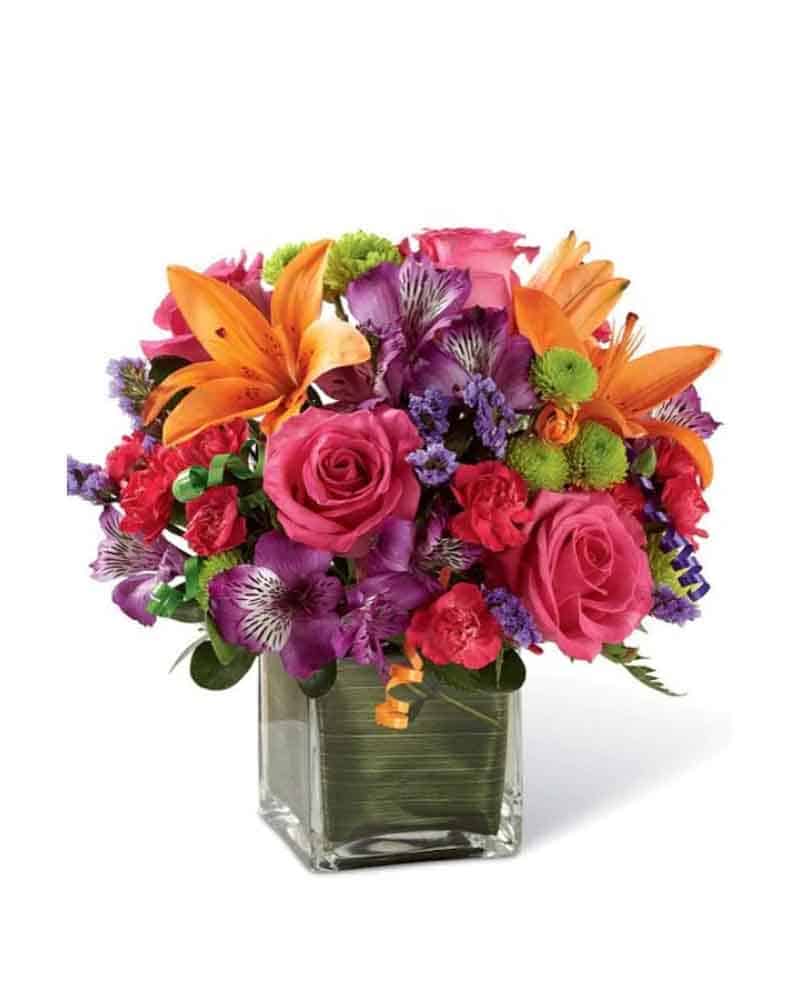 BLUSH LIFE PLUS SOY CANDLE
Our bestselling Blush Life Bouquet is full and feminine and comes with a delightfully fragrant soy candle made by Magnolia. It's perfect for a birthday gift, get well wishes, a thinking of you surprise and more! Flowers and stems will vary according to availability.
Locations
WHITTEN ROAD
2435 Whitten Rd.
Memphis, TN 38133
(901) 405-6670
POPLAR AVENUE
5645 Poplar Ave.
Memphis, TN 38119
(901) 682-2501
UNION AVENUE
1882 Union Ave.
Memphis, TN 38103
(901) 726-1042
SOUTHAVEN, MISSISSIPPI
3075 Goodman Rd. Suite 14
Southaven, MS 38672
(662) 342-1832