Pugh's Flowers
At Pugh's Flowers, we specialize in unique, beautiful and high-end floral designs. We offer fresh and lovely flower arrangements for all occasions including New Baby Flowers and Valentine's Day Flowers. We import the freshest cut flowers daily from around the world for our flower delivery. We receive our cut flowers on refrigerated trucks or by direct air shipment from the ports of Miami and New York, and the fields of Southern California. Our goal is to provide the freshest product daily at reasonable prices. Teleflora ranks Pugh's Flowers as one of the nation's 100 largest floral order senders from over 25,000 member shops. Our full-service florist has a full selection of fresh cut flowers, fruit and gourmet baskets, green houseplants and home accessories that are all available in store, via the web or by phone. Pugh's Flowers is open 7 days a week 24 hours a day by phone 888-901-6744 and via the World Wide Web. The retail locations offer delivery 7 days a week both locally (Memphis, Millington, Bartlett, Arlington, Germantown, Southaven, Olive Branch, Horn Lake, West Memphis) and nationally.
New Baby Flowers and Plants
If you are looking to celebrate the arrival of a new baby, sending a congratulations bouquet is a thoughtful way to let them know how happy you are for them. While traditional flowers like yellow and blue are always a good choice, there are plenty of modern options as well! From gift baskets filled with all sorts of novelties that both parents and newborn alike can use and enjoy, to small but significant arrangements intended only for momma—there are many ways to congratulate someone on their newest family member.
Welcoming a new baby into the world is an exciting time, and you're sure to know someone who recently has or will soon. New baby flowers are a great way to celebrate the arrival of a new baby. If you are looking for something special for your friend's new little one (or yourself), here are some ideas:
Baby's breath – This delicate white flower is often used as filler in bouquets because it looks great with other flowers and can help keep costs down. It also symbolizes innocence and purity of heart–perfect for welcoming this precious little one!
Tulips – Tulips are known for their beauty but also have another meaning behind them: they represent love at first sight when given as a gift between two people who fall deeply in love with each other immediately upon meeting each other like a mother and her newborn baby.
Whether friends or family members are celebrating the arrival of their little one, sending congratulations flowers for a new baby is a great way to let them know how happy you are for them. It's also important to remember that this can be an exciting time for you too! Whether you have had your own bundle of joy arrive recently or have been waiting on pins and needles to meet your friend's newborn, sending congratulation flowers may feel like an obvious choice but don't underestimate their impact–they're sure to bring happiness into someone's life!
Flowers are a great way to congratulate someone on their new addition. It is important to choose a gift that is meaningful to the recipient, so think about what they like and how you want your card to look before ordering. Yellow and blue are traditional colors for baby boys, but you can also find gifts in pink or green if you would prefer something more gender neutral. You can also find gift baskets filled with all sorts of novelties, including stuffed animals and picture frames — just make sure whatever you choose matches the age range of your recipient's child!
If you are looking for something small but significant, an arrangement of colorful flowers is the perfect gift to celebrate the occasion. Flowers can be delivered to the hospital or home on a specific date and in any color. Many shops have an extensive selection of bouquets that are suitable for all babies, including newborns. If you are not sure what kind of flower arrangement would best suit your loved one's taste or style, consider buying them a plant instead–it will last longer than most flower arrangements and be just as appreciated.
Discount Offers – Use on Main Website
Pugh's Flowers Same Day Delivery New Baby Bouquets and Valentine's Day Flowers
Pugh's Flowers offers the best selection of beautiful fresh flowers in Memphis. We have flower arrangements that are themed to celebrate the birth of a newborn girl or boy. These arrangements are available for same day delivery. We make daily deliveries to all Memphis area hospitals. Oh boy! Or it's a girl! Send them new baby flowers to greet their happy, new addition. Congratulations flowers are in order for the family, whether it's the first baby or the fifth, a celebration is in order. Whether you choose traditional pink and blue for a new baby, or send something unique, Pugh's Flowers has you covered. We offer the best selection of flowers, plants and gifts themed for newborns in greater Memphis, Tennessee and other markets. We offer same day delivery service to all hospitals and medical centers.  Our floral design centers are open to customers for in-store shopping. We have a wonderful get well floral collection that is particularly popular for customers wanting to send an arrangement to a friend or family member being treated at a local hospital. We provide local same-day and express flower delivery service to all hospitals and medical centers. We provide flower, plant and gift delivery service to them six days a week. The only day we do not provide get well flower delivery is on Sunday.
All deliveries are guaranteed for on-time delivery. If you need your get well flowers to arrive at the hospital or medical facility by a specific time, please contact our flower shop. Depending upon the time of day you call, we may be able to provide express flower delivery service for your order. Most hospitals in the area are open early. They usually allow flower delivery to begin by approximately 9:00 a.m. each day. Our staff makes every effort to have all deliveries to hospitals completed not later than 5 pm every afternoon.
We offer both local same day and express flower delivery service to most hospitals. Generally, our same day delivery option works well for most get well deliveries. Our website features many great get well themed floral bouquets, plants and gifts. If you don't see the exact get well bouquet you need on the site, contact our flower shop. The award winning floral design team at Pugh's Flowers will custom design the exact arrangement you need.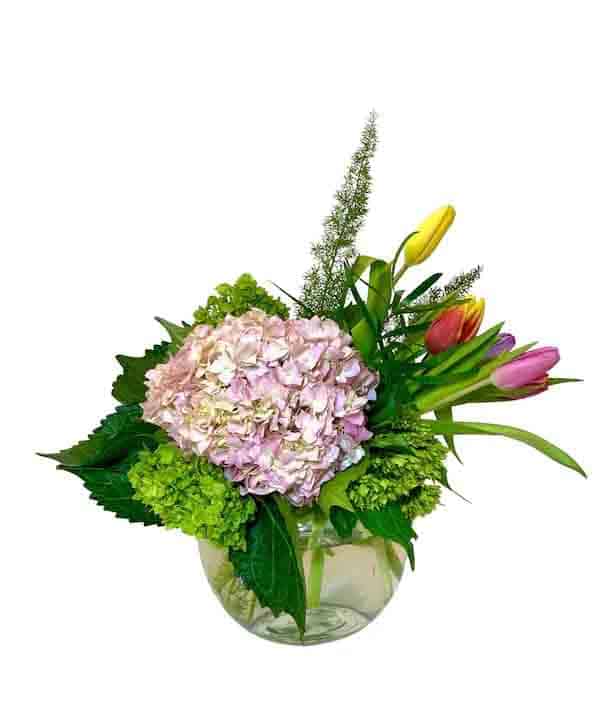 GRAYSON'S TULIPS
This beautiful fishbowl bouquet was uniquely designed by Grayson Pugh. It is filled with mini green hydrangeas, premium pink hydrangeas, and assorted tulips!
Locations
WHITTEN ROAD
2435 Whitten Rd.
Memphis, TN 38133
(901) 405-6670
POPLAR AVENUE
5645 Poplar Ave.
Memphis, TN 38119
(901) 682-2501
UNION AVENUE
1882 Union Ave.
Memphis, TN 38103
(901) 726-1042
SOUTHAVEN, MISSISSIPPI
3075 Goodman Rd. Suite 14
Southaven, MS 38672
(662) 342-1832