Pugh's Flowers
One great way to say "thank you" to your Administrative Assistant for all they do is with Administrative Professionals Day Flowers. National Administrative Professionals' Day, also known as Secretaries Day or Admin Day, recognizes the professionals who are so dedicated and loyal and ensure the office runs smoothly every day. We celebrate these professionals on Wednesday of the last full week in April of each year. This year the date is April 26th.
Discount Offers – Use on Main Website
Administrative Professionals
The normal day for an administrative professional is always changing from moment to moment. They are such vital members of any business staff and have varying responsibilities including managing appointments, drafting letters and memos, booking business trips, coordinating appointments, and planning meetings. Administrative professionals compile data, research information and keep business data pristine. Their organizational skills mean they identify valuable information rapidly and keep the executives on schedule, whether they are in transit or with a client. They are mission critical to an office or business running efficiently.
Administrative Professionals Day Flowers
Are you looking for a way to show your appreciation for an administrative professional at work? Administrative Professionals Day is the third Friday of September, and it is also considered a national holiday. Administrative Professionals Day is a great time to show your appreciation for the people who help keep you organized and on task. You can thank them with a card or small gift or take them out to lunch and let them know how much they mean to you. The Administrative Professionals Day is a day to express appreciation for all the hardworking administrative professionals around us. It is also a time to think about how we can improve our own practices and be more effective in assisting our teams.
Here are some ideas for how to celebrate Administrative Professionals Day:
Send a card or small gift. You can buy something from an office supply store or make one yourself.
Take them out to lunch and let them know how much they mean to you!
Administrative Professionals Day Flowers from a local florist can be a great way to say thanks.
Flowers are a great way to show your appreciation for an administrative professional. If you are looking for something that will be delivered quickly and with the utmost care, look no further than flowers from a local florist. Flowers can be sent same day or even overnight, making them the perfect gift for last minute occasions!
Sometimes you are not sure what kind of flowers would be best suited for your recipient. Not to worry as there are plenty of options out there! And our talented floral designers are eager to help you. You can choose flowers that match their interests or personality traits; for example: if your friend loves cats but does not own one yet (weird), then consider sending her some cat-shaped arrangements. Or maybe she is recently had a baby? Brightly colored bouquets in shades like pink or yellow will make her feel extra special during this exciting time in her life. And if none of these things apply? Well…then I guess there is always chocolate covered strawberries!
If you are looking for something a little more unique than flowers or chocolate, consider giving your friend a gift card to their favorite store. For example: if he or she is always talking about wanting to go shopping but never has the time, then why not give them some spending money so they can do just that? A gift card will also ensure that your recipient will not have to worry about picking out the perfect present for herself–she can simply choose whatever catches her eye!
Administrative professionals are often the glue that holds an organization together. They provide a wide range of support services, including human resources, finance and accounting, information technology, facilities management and project management. Administrative professionals work behind the scenes to ensure that their organizations operate at peak performance.
It is never too late to say thank you with a thoughtful gift from your local florist! You know the importance of saying thank you. But do your administrative professionals? Again, it is never too late to show your appreciation for the hard work and dedication of those who keep the office running smoothly. The best way to do this? With flowers and plants! Not only are these gifts beautiful, but they also have a multitude of health benefits for those who receive them.
Flowers can help improve circulation, reduce stress levels and increase energy–making them perfect for anyone who works long hours at their desk (or even just spends most days sitting). Plants offer similar benefits while adding another layer: they are great at removing toxins from indoor air. Plus, they make a space feel alive by bringing nature into it! The pride and enjoyment of these beautiful flowers and plants will make the recipient feel very appreciated.
Administrative professionals are often referred to as the backbone of a company. They keep everything running smoothly, from keeping the office stocked with supplies to managing employee schedules and more. But did you know that flowers can help improve circulation, reduce stress levels and increase energy? Plus, they make a space feel alive by bringing nature into it! The best time to order flowers or plants is right now! You do not want any delays in getting them delivered before Administrative Professionals Day arrives on April 26th; so, order now so there will not be any last-minute scrambling around trying to find something last minute when it comes time for delivery day."
Conclusion
If you are looking for a way to say thank you, flowers are always a great option. Whether it is Administrative Professionals Day or not, we would love to help with Administrative Professionals Day Flowers! We have a wide selection of flower arrangements that will make your recipient smile–and they will arrive right on time when you need them most.
Pugh's Flowers Same Day Delivery Administrative Professionals Day Flowers
Pugh's Flowers has been serving customers in Arlington and the greater Memphis metro area since 1976. We are a second generation, family owned and operated floral design firm. The company was originally started by Bill Pugh and his partner. Today, that small flower shop has grown into the largest floral design firm in the state of Tennessee. Flower shop operations are managed by two of the Pugh brothers. Michael Pugh handles all admin and finance related responsibilities. Tim Pugh is in charge of the day to day flower shop operations. In addition to their thriving flower business, the Pugh's also own a landscape design firm, called Pugh's Earthworks. Mark Pugh, runs that company.
The Pugh's employ a very talented group of floral designers. These folks are well known for the stylish and creative designs. The operations and sales staff are comprised of an equally talented group. These folks are professional and extremely dedicated to providing great service for our customers. The flower arrangements we create are unique, artistic designs. We create everything from a traditional dozen red roses, to some of the most stunning fresh flower arrangements you have ever seen. We carry all of the areas favorite flower varieties. We have a great selection of Oriental, Stargazer and Asiatic Lilies. We have the best Ecuadorian roses in town. Our Gerbera Daisies, tulips, carnations and full bloom hydrangea are absolutely gorgeous. Looking for something exotic. We carry beautiful fresh Protea and the prettiest Cymbidium and Dendrobium Orchids in Arlington. Our firm designs for all occasions, including weddings and corporate events. We are large enough to handle weddings and events of any size.
Pugh's offers a great selection of occasion themed flower arrangements. We carry arrangements and gifts for virtually every special occasion & event you can think of. Many of the fresh flowers we sell come farm-direct to us. That ensures that we can offer the finest, freshest, highest quality flowers in Arlington. We carry gorgeous Ecuadorian long stem roses, stunning cymbidium and dendrobium orchids, dazzling lilies and all your traditional favorites. Looking for something other than a flower arrangement? You have come to the right place. Pugh's has the best selection of green, tropical and flowering plants in the area. We have everything from emerald garden baskets, to hanging plants to traditional dish gardens. We also sell gourmet gift and fruit baskets. We fill them with lots of gourmet treats, including Godiva chocolates, fresh seasonal fruit and other wonderful edible delights.
Pugh's Flowers offers same day flower delivery to all Shelby County Hospitals, Funeral Homes and Mortuaries. We also have a floral design center in Southaven, MS. We make daily deliveries in the Southaven Mississippi area as well. We invite you to do your shopping on our website. If you prefer, we also have four floral design centers available for you to come in and see our entire selection of flowers, plants and gifts.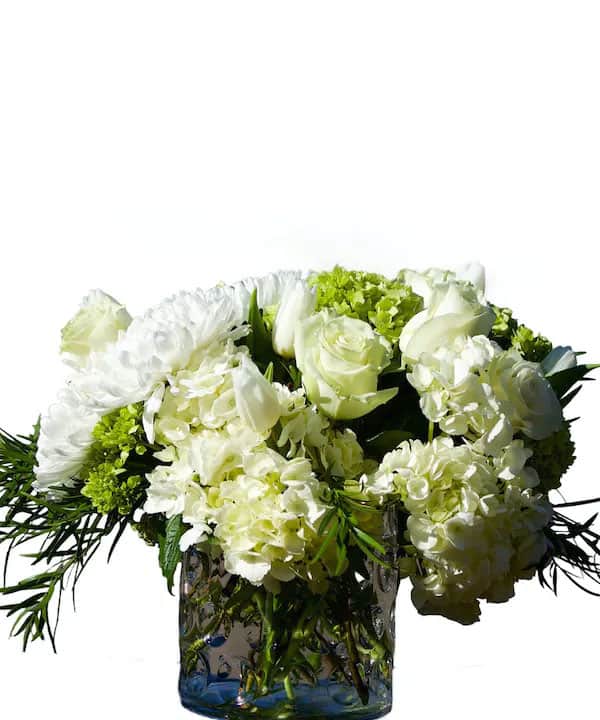 MADAME MARLOWE
This gorgeous all white bouquet is filled with premium stems and perfect for any occasion.
Locations
WHITTEN ROAD
2435 Whitten Rd.
Memphis, TN 38133
(901) 405-6670
POPLAR AVENUE
5645 Poplar Ave.
Memphis, TN 38119
(901) 682-2501
UNION AVENUE
1882 Union Ave.
Memphis, TN 38103
(901) 726-1042
SOUTHAVEN, MISSISSIPPI
3075 Goodman Rd. Suite 14
Southaven, MS 38672
(662) 342-1832