Pugh's Flowers
Thanking teachers and administrators for all their hard work is important but sometimes challenging to find the perfect way. However, we will make that easier for you! We offer a variety of flowers that are sure to brighten anyone's day and make them smile. Teacher Thank You Flowers are a great way to express how much you appreciate the hard work that teachers and administrators do.
Discount Offers – Use on Main Website
Flowers are a great way to express how much you appreciate the hard work that teachers and administrators do. Teachers spend countless hours teaching students in their classrooms, but they also work tirelessly outside of school hours to ensure that their students get the best education possible. They often put in extra time after school helping students with projects and homework, making sure they understand everything before moving on to the next lesson plan. That is why flowers are such a perfect gift for teachers: they will brighten up their day while showing them how much you care about them!
Flowers are also an excellent gift for administrators because these individuals oversee all aspects of school life–from finances and budgeting down through discipline policies and classroom management techniques. As such, when there is something wrong with your child's education experience (such as bullying or other problems), it falls on these individuals' shoulders to fix it quickly so everyone can move forward safely into new lessons without any lingering issues dragging them down unnecessarily long past graduation day. It is a lot of responsibility, so it is important to show them that you appreciate all they do for your child and their classmates.
Popular Flower Varieties and Colors for Teachers 
Specks of gold and hot pink add extra dimension to the texture.
The bright yellow and hot pink flowers in arrangements create a bold, yet elegant look. The cheerful colors are sure to bring a smile to anyone's face!
Bright yellow roses and dahlias arranged in a vase with speckles of gold are popular.
The hot pink spray roses add extra dimension to the texture of arrangements.
The simplicity of a design allows vibrant colors to shine through and create a stunning arrangement that will brighten anyone's day!
It is the perfect way to show them how much you appreciate all of their hard work! These types of bouquets that feature blooms in shades of pink, purple and blue arranged in a classic glass vase with a ribbon around them will make anyone smile when they receive it! They are perfect for any occasion and will make a great gift for the teacher or administrator in your life.
The hydrangea is a popular choice for teachers. This flower has so many meanings behind it and can be used to express gratitude in so many ways. Hydrangeas are beautiful, but they also symbolize strength and integrity. They are often given as gifts on birthdays or special events like graduations because they represent longevity, which is why it is important to thank your teachers every year! The flowers are also a common gift for teachers because they represent beauty. Hydrangeas have beautiful colors and patterns that can be used to decorate any room, which makes them perfect for teachers who enjoy decorating their classrooms. Hydrangeas are commonly given as gifts because they represent beauty, strength and longevity. These flowers are often used to decorate classrooms or offices because of their versatility.
A tropical flower arrangement is also a great and different way to brighten anyone's day. The vibrant colors and tropical flowers are sure to make any recipient feel special, whether you are sending it as a thank you for an administrator or teacher. Typical tropical flower arrangements consist of a mix of flowers including gerbera daisies, anthuriums and more!
Other tropical flower arrangements include:
Red and yellow anthuriums
White daisies
Pink spray roses
Green button poms
Orange carnations
Assorted tropical greens
Calypso orchid plant
Please note that these items sometimes may require additional delivery time. Please call us for additional information.
Plants are a great gift for any occasion, and they can be delivered to the school or to the teacher's home. If you are looking for an inexpensive but thoughtful gift, consider a plant delivery. Since our plants can be delivered to the school or teacher's home, they make a great gift for any occasion. We are the best place to buy plants and flowers for teachers. With a wide selection of bouquets, plants and gift baskets, you are sure to find something that will make your teacher smile. When you order from us, we will deliver right to their door on the date you specify!
If you need help finding the perfect gift or want more information about our delivery services, just call us or visit online. Our friendly customer service representatives are ready with answers any time day or night! When you are looking for a way to say thank you, nothing says it better than flowers. Send flowers to your favorite teacher today and show them how much they mean to you! We have everything you need to create the perfect bouquet—from roses, lilies and orchids to carnations, daisies and more.
Conclusion
We also offer a wide selection of plants, gift baskets and fruit arrangements. If you are not sure what to get someone, let us help! We have a team of experts on hand that can assist with any questions or concerns you may have. When you need to find the perfect teacher gift, look no further than Pugh's Flowers. We have everything you need to create a beautiful and thoughtful bouquet or plant arrangement that will surely impress. From gorgeous roses to colorful gerberas and lilies, we offer an array of options to fit any budget. Thank You flowers are a great way to show your appreciation for the hard work teachers and administrators do. If you are looking for a unique flower arrangement that will make an impact on any occasion, we are the best. We have many different options available for delivery today or tomorrow so that you can send something special right away.
Pugh's Flowers Same Day Delivery Teacher and Administrators Flowers
You do not need a reason to make someone smile! Surprise someone special with a bouquet from Pugh's Flowers. From romantic roses to modern arrangements, we have got it all! We can even deliver your bouquet nationwide or locally. Flowers are a convenient way to express your feelings for someone who means a lot to you. If you want to send flowers because you want to surprise someone, there many different types of flowers and ways to send them.
If you are looking to send flowers, there are a few factors that can make or break the experience. Here are some tips for choosing the right flowers and making sure your delivery goes smoothly. The best time to send flowers is early in the morning on Mondays, Wednesdays and Fridays–and late at night on Tuesdays and Thursdays. When deciding what type of bouquet to send, keep in mind that roses signify romance while lilies symbolize purity; tulips mean admiration; carnations mean love at first sight; daisies represent innocence; daffodils represent cheerfulness (or hope); sunflowers represent warmth & friendship/good wishes.
Flowers are a great gift to send to anyone you love. They are beautiful, they smell good, and they come in all shapes and sizes. But how do you choose the right flowers for the person you're sending them to? And what if you don't know their favorite color? Or if they like daisies more than roses or vice versa? When it comes to sending flowers, there are lots of options. You can send them as a gift or use them as an accessory for your event or party. You can also incorporate them into your table décor or centerpiece! Here are some ideas on how you might be able to use flowers in different situations:
Popular Flower Varieties for Thank You and Just Because Occasions
Roses are a classic choice for a reason. They are beautiful, they smell amazing. Rose bouquets come in all different colors and sizes, making them perfect for any occasion or person. If you want to go with something more unique than your standard red rose bouquet, consider an orange or pink version instead!
Orchids are another popular flower option because of their exotic appearance and long-lasting nature–just make sure you know how far away from water the recipient will be before buying them this type of plant!
Hydrangeas are known for their large heads covered in small petals that form into large clusters (or "heads"). These flowers come in many colors, but purple seems to be especially popular among Just Because recipients throughout history; perhaps because it reminds us of royalty? Whatever the reason may be though…you'll find yourself falling head over heels over these beauties too once you see what they look like up close!
Lilies represent purity and innocence which makes them perfect choices when sending someone special something special just because we care about them so much; plus there's nothing better than getting fresh cut lilies delivered right door step every week without even having lift one finger ourselves.
Flowers can be sent to anyone, even if you do not know them. They are a great way to show someone you care and will brighten up their day. Flowers are also perfect for any occasion, whether it's their Birthday, Anniversary, Prom, Valentine's Day or other flowers will make them happy! If you want to send flowers but do not know what kind of flower would be appropriate, try looking at the color wheel or finding out the meaning behind different colors (for example, red is passionate). You can even send flowers without an occasion–just because they are beautiful!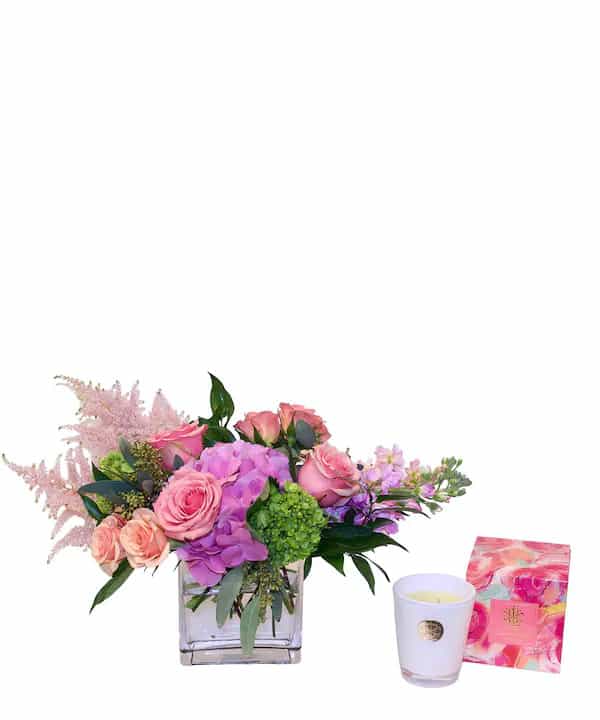 THE ORPHEUM
This stylish, vibrant arrangement is designed with roses, astilbe, hydrangea, and more! This stunning mix is perfect for any occasion.
The Orpheum Candle Package comes with locally handmade candle with a fragrance that is blended with bubbles of champagne, ripe peach accords, blooms of rose and perfected with white musk.
Locations
WHITTEN ROAD
2435 Whitten Rd.
Memphis, TN 38133
(901) 405-6670
POPLAR AVENUE
5645 Poplar Ave.
Memphis, TN 38119
(901) 682-2501
UNION AVENUE
1882 Union Ave.
Memphis, TN 38103
(901) 726-1042
SOUTHAVEN, MISSISSIPPI
3075 Goodman Rd. Suite 14
Southaven, MS 38672
(662) 342-1832