Pugh's Flowers
Summer Flowers and Plants are a great way of showing someone you care and celebrating the start of the wonderful Summer Season.  If you are not a gardener or florist, sending flowers can be stressful – especially if it is for an important occasion like a birthday or anniversary. But with our tips below, ordering flowers will be much easier!
Discount Offers – Use on Main Website
Summer Flowers and Plants
Summer is the time to enjoy the vibrant colors of flowers, plants and trees. It is also a great time to send summer flowers as gifts. There are many varieties available in our online store that you can choose from depending on your budget and needs.
We suggest starting with something simple like an elegant bouquet of roses or lilies; either way it will be sure to please! You could also consider adding some greenery accents such as ferns or grasses if you want something more natural looking (or just do not have much space). If money is not an issue, then why not go all out by ordering one of our premium arrangements? These include multiple types of blooms such as carnations, daisies, tulips etc., all arranged beautifully inside a vase container which makes them perfect for displaying around home decor items like mirrors or picture frames during parties/weddings etc.
There are also plenty of options if you want to send something more unusual such as a fruit basket or even a potted plant. This is great for those who live far away but still want to show their loved ones that they are thinking of them.
How to Pick a Flower or Plant for Someone You Love
When you are buying flowers or plants for someone you love, there are a few things to keep in mind. First of all, choose a flower or plant that is appropriate for the occasion. If they just lost their job, do not give them roses; get something more practical like chrysanthemums (which symbolize cheerfulness). Next, consider the recipient's tastes and preferences–does she prefer pink or blue? Does he like tropical plants over cacti? Is your mother allergic to pollen? It is important not only to choose an appropriate flower type but also one that will not cause harm if ingested by accident!
Finally, think about where these lovely blooms will live once they arrive at their new home: does it need lots of sunlight? TLC from overwatering? How much water does this particular species require on average each week? A little research into each species' needs will help ensure that both parties enjoy living together happily ever after.
Once you have decided what type of plant to get, it is time to find a nursery that has the right kind. If you are looking for something specific, like a plumeria tree or an elephant ear plant, try searching for specialty nurseries near you. If your recipient is more garden-minded than horticultural, consider getting them some beautiful flowers instead!
Sample Flower and Plant Gift Ideas
Flowers are an excellent way to send your love. They are also a great way to celebrate any occasion like the start of Summer. You may be wondering what to get the gardener in your life, but do not fret! We have some suggestions for you:
Roses – These classic flowers are often given as a romantic gesture or as part of an anniversary gift. Roses come in many different colors and sizes, so you can find one that matches their personality perfectly! If they prefer white roses over red ones or vice versa, consider getting two different types instead of just one kind. This will show them how much thought went into choosing the perfect flower option for them (and it will save money too).
Tulips – Tulips are another common type of bloom commonly used during springtime celebrations like Mother's Day and Easter Sunday worship services because they represent rebirth after wintertime hibernation periods; however, Tulips are not just limited solely towards these two holidays–you can give these vibrant flowers anytime throughout year if there is someone special whom deserves something extra special from time-to-time."
These flowers are also a great option for any gardener who loves to garden with the seasons. They are easy to grow and care for, so if your giftee has never grown them before, they will hardly have to put any effort into getting their first batch of tulips up and growing!
Why We Love Summer Flowers and Plants
Summer flowers are bright, colorful and cheerful. They are a great way to add some life to your garden during the summer months. Summer is also a great time to plant flowers and plants because they have time to grow before winter arrives. Our favorite summer blooms include zinnias (which come in many different colors), hollyhocks (they grow quickly!) and sunflowers (they're easy-to-find at grocery stores). But if you are looking for something more unusual, here is our list of unusual flowers that will make your garden stand out.
Agapanthus – These exotic looking plants are often called "African lily." They have large, blue to purple flowers that bloom from spring through fall.
Aloe Vera – The aloe vera plant is known for its healing properties and can be used for burns, insect bites and minor cuts. Aloe vera plants can grow up to 3 feet tall and produce yellow flowers in the summer.
Amaryllis – This bulbous plant produces vivid red, pink or white flowers in late winter or early spring. The Amaryllis is easy to grow and has a long blooming season. You can also force them into bloom by placing them in a dark, cool place for about eight weeks.
Anthurium – These plants have large leaves that resemble hearts and come in many different colors. They are native to the tropics and can be used as houseplants or outside in warmer climates.
Black-Eyed Susans – These flowers bloom in late summer and early fall. They have dark brown centers surrounded by yellow petals with black eyespots on them.
Conclusion
Flowers are a great way to show that you care.
Flowers are a great way to celebrate special occasions like the start of Summer.
Flowers are a great way to say thank you.
Flowers are a great way to say happy birthday, I love you or any other occasion that warrants some extra loving attention!
We hope that you enjoyed our guide to sending flowers and plants this summer. If you have any questions about the process, please do not hesitate to reach out! We are always happy to help.
Pugh's Flowers offers Flowers and Plants Perfect to Celebrate the start of Summer
Pugh's Flowers is family owned and operated. We have ensured that our customers can continue to expect top quality floral products and great customer service. Those have been hallmarks of our business for many years. Flowers are a convenient way to express your feelings for someone who means a lot to you. If you want to send flowers because you want to surprise someone, there many different types of flowers and ways to send them.
Flower Delivery
If you are looking to send flowers, there are a few factors that can make or break the experience. Here are some tips for choosing the right flowers and making sure your delivery goes smoothly. The best time to send flowers is early in the morning on Mondays, Wednesdays and Fridays–and late at night on Tuesdays and Thursdays. When deciding what type of bouquet to send, keep in mind that roses signify romance while lilies symbolize purity; tulips mean admiration; carnations mean love at first sight; daisies represent innocence; daffodils represent cheerfulness (or hope); sunflowers represent warmth & friendship/good wishes.
Just Because Flowers
Flowers are a great gift to send to anyone you love. They are beautiful, they smell good and they come in all shapes and sizes. But how do you choose the right flowers for the person you're sending them to? And what if you don't know their favorite color? Or if they like daisies more than roses or vice versa? When it comes to sending flowers, there are lots of options. You can send them as a gift or use them as an accessory for your event or party. You can also incorporate them into your table décor or centerpiece! Here are some ideas on how you might be able to use flowers in different situations:
Popular Flowers for Celebrations of all Occasions
Roses are a classic choice for a reason. They are beautiful, they smell amazing, and they say, "I love you." Rose bouquets come in all different colors and sizes, making them perfect for any occasion or person. If you want to go with something more unique than your standard red rose bouquet, consider an orange or pink version instead!
Orchids are another popular flower option among Just Because gifts because of their exotic appearance and long-lasting nature–just make sure you know how far away from water the recipient will be before buying them this type of plant!
Hydrangeas are known for their large heads covered in small petals that form into large clusters (or "heads"). These flowers come in many colors but purple seems to be especially popular among Just Because recipients throughout history; perhaps because it reminds us of royalty? Whatever the reason may be though…you'll find yourself falling head over heels over these beauties too once you see what they look like up close!
Lilies represent purity and innocence which makes them perfect choices when sending someone special something special just because we care about them so much; plus, there is nothing better than getting fresh cut lilies delivered right door step every week without even having lift one finger ourselves.
Flowers can be sent to anyone, even if you do not know them. They are a great way to show someone you care and will brighten up their day. Flowers are also perfect for any occasion; whether it is their birthday or Valentine's Day, flowers will make them happy! If you want to send flowers but do not know what kind of flower would be appropriate, try looking at the color wheel or finding out the meaning behind different colors (for example, red is passionate). You can even send flowers without an occasion–just because they are beautiful!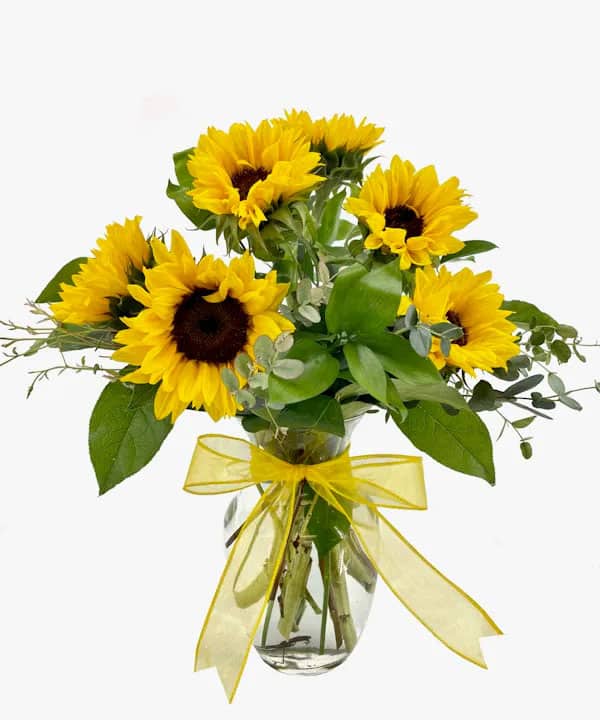 FOR MY SUNSHINE
This arrangement is half a dozen, or a dozen, large sunflowers with eucalyptus!
Locations
WHITTEN ROAD
2435 Whitten Rd.
Memphis, TN 38133
(901) 405-6670
POPLAR AVENUE
5645 Poplar Ave.
Memphis, TN 38119
(901) 682-2501
UNION AVENUE
1882 Union Ave.
Memphis, TN 38103
(901) 726-1042
SOUTHAVEN, MISSISSIPPI
3075 Goodman Rd. Suite 14
Southaven, MS 38672
(662) 342-1832