Pugh's Flowers
Do you know someone that is retiring? A retiree is a unique person to buy flowers for. You want to honor their many years of service, but you do not want to seem too sentimental. However, there is no reason why you cannot combine these two things! If you know someone who is retiring soon, consider giving them our beautiful Retirement Flowers or Plants as a token of appreciation for all they have contributed to society and the world around them. Here are some suggestions that will make this gift even better:
Discount Offers – Use on Main Website
Retirement Flowers
Flowers are a great way to celebrate a retirement. Whether you are celebrating the end of your own career or that of someone close to you, flowers are a gift that lasts and will bring joy for many years to come. There are many flowers that are appropriate for retirement: roses, lilies, daisies and chrysanthemums are just some examples. You can also consider giving plants as gifts–they will grow quickly into beautiful plants that will remind your loved one every day of their special day!
Again, some of the best flowers for retirement include lilies, roses and daisies. These are all beautiful and long-lasting gifts that will remind your loved one of their special day every time they look at them! If you're looking for something different and unique, consider giving your loved one a "flower angel". These little angels are made from silk flowers and are very delicate; they make great keepsakes that can be placed on a shelf or in a vase as decoration every day.
If your loved one is more into gardening than they are flowers, consider giving them a gift certificate for some plant or flower types they might want to plant in their garden. Of course, you could add in some new tools or seeds so that they can plant additional flowers in their garden! If you do not know what kind of plants or tools they like or need, consider giving them a book on gardening instead.
Retirement Plants
Cacti are a great choice for retirement plants. They are easy to care for, and many varieties have beautiful flowers that bloom year-round. Succulents also make good retirement gifts. These plants can survive in dry conditions and do not require much water or sun exposure to thrive, making them perfect for those who may not have their own green thumb but still want to give their loved one something special on his or her big day. Other options include Orchids (which come in many colors), Aloe Vera (good for skin), Air Plants (no soil needed).
If you are giving flowers as a gift, it is best to present them in an elegant vase or container. The container should be large enough to accommodate all of your flowers comfortably without crowding them too much–you do not want anyone getting hurt! If you find yourself without any suitable containers, try using something else instead: maybe an empty bottle will do just fine? Gift wrap can be tricky when working with living things like plants and trees; luckily there are plenty of options available by our talented Floral Designers.
Conclusion
These plants and flowers make great gifts for retirees. The best part is that they can be placed in any room of the house, so you do not have to worry about finding a place for them.
Pugh's Flowers Offers Same Day Delivery of Retirement Flowers or Plants
Voted Best Florist in Memphis
Pugh's Flowers is a third generation, family owned and operated floral design firm. We operate three floral design centers in the greater Memphis area, and operate a fourth flower shop in Southaven, Mississippi. Our delivery team is one of the very best in Tennessee. In fact, we own and operate a company called Lickety Split Courier. Through that firm, we are able to offer our local clients, same day or express flower delivery. We also provide nationwide same day delivery for any delivery outside of the state.
Pugh's Flowers was created and started in 1978, by Bill Pugh and a partner. Today, his three sons, Mark, Michael and Tim, run the flower shop and all related day to day operations. The Pugh's owns a number of other businesses. Some related to the flower shop and others not. As mentioned earlier, they utilize their delivery service, Lickety Split Couriers, to handle all local same day and express deliveries. In addition to flowers, the brothers have found success with their commercial landscape firm, known as Pugh's Earthworks, and with their pest control firm, Rosie's Pest Control.
At Pugh's, we are extremely blessed to have built a professional, customer focused employee team. Any successful flower shop is built around the floral design team. We have one of the finest groups of flower designers anywhere in Tennessee. Our operations staff and sales staff are also top notch. They are customer focused, motivated and dedicated folks. Our delivery operation is second to none.
We create traditional, contemporary and very modern metropolitan floral designs. Each flower arrangement comes with our 100% customer satisfaction guarantee. We create everything from a traditional dozen red roses, to some of the most stunning fresh flower arrangements you have ever seen. We carry all of the areas favorite flower varieties. We have a great selection of Oriental, Stargazer and Asiatic Lilies. We have the best Ecuadorian roses in town. Our gerbera daisies, tulips, carnations and full bloom hydrangea are absolutely gorgeous. Looking for something exotic. We carry beautiful fresh Protea and the prettiest Cymbidium and Dendrobium Orchids in Southaven. Our firm designs for all occasions, including weddings and corporate events. We are large enough to handle weddings and events of any size.
Local Same Day & Express Delivery
Pugh's Flowers offers same day flower delivery anywhere in the greater Memphis Tennessee area. If you are in our local delivery zone, we also offer 4 hour express flower delivery service, for those who have to have the flowers arrive at a specific time.
Need to send flowers to a local hospital? We can help. Pugh's Flowers provides same day & express flower delivery to all Shelby County Hospitals. Our get well flowers, plants and gift collection are the best in town. We also offer get well themed mylar balloons, teddy bears and delicious edible treats.
We offer the best selection of sympathy flowers in the state. Our firm provides local same day & express delivery service to all greater Memphis area Funeral Homes, Mortuaries and Cemeteries. As mentioned earlier, we also operate a floral design center in Southaven, MS. We make daily sympathy flower deliveries in Southaven, and throughout the DeSoto county area as well. We invite you to do your shopping on our website. If you prefer, we also have four floral design centers available for you to come in and see our entireselection of flowers, plants and occasion themed gifts.
Same Day Flower Delivery in The Greater Memphis Tennessee Area
Pugh's Flowers offers both local and nationwide delivery options. Locally we offer same day and express flower delivery service. Nationally, we offer same day flower service. We have a team of delivery drivers on staff. We also own a delivery courier firm called Lickety-Split Couriers. They handle the vast majority of all flower arrangements that we deliver locally. Every flower arrangement we deliver is guaranteed to arrive fresh and on-time. All come with our 100% customer satisfaction guarantee. If for any reason you don't like the arrangement that we have designed and delivered for you, please contact our floral design center and we will replace that arrangement free of charge.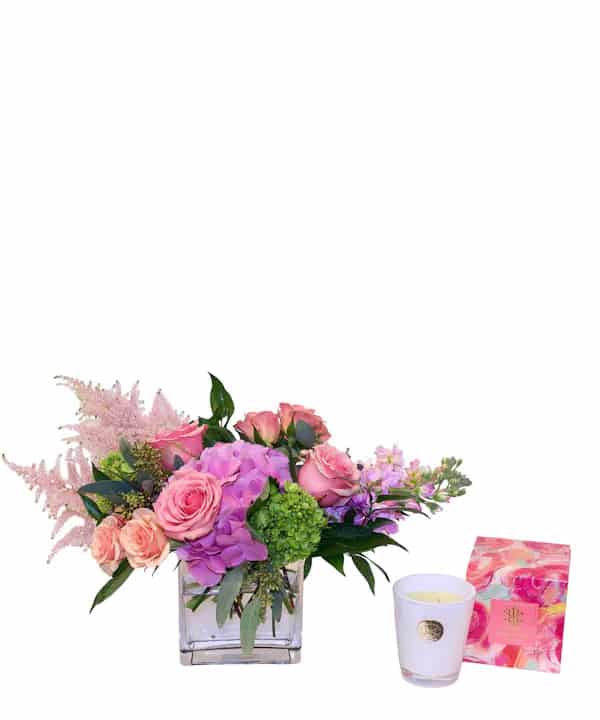 THE ORPHEUM
This stylish, vibrant arrangement is designed with roses, astilbe, hydrangea, and more! This stunning mix is perfect for any occasion.
The Orpheum Candle Package comes with locally handmade candle with a fragrance that is blended with bubbles of champagne, ripe peach accords, blooms of rose and perfected with white musk.
Locations
WHITTEN ROAD
2435 Whitten Rd.
Memphis, TN 38133
(901) 405-6670
POPLAR AVENUE
5645 Poplar Ave.
Memphis, TN 38119
(901) 682-2501
UNION AVENUE
1882 Union Ave.
Memphis, TN 38103
(901) 726-1042
SOUTHAVEN, MISSISSIPPI
3075 Goodman Rd. Suite 14
Southaven, MS 38672
(662) 342-1832