Pugh's Flowers
Summertime is the time for romance, and nothing says romance like a bouquet of flowers. If you are in need of some flower inspiration this summer, consider these four gorgeous varieties of Mid-Summer Romance Flowers:
Discount Offers – Use on Main Website
Hibiscus flowers
Hibiscus flowers are a great choice for mid-summer romance. The hibiscus flower has long been associated with love and romance, and its vibrant colors make it a perfect flower to send to your sweetheart. Hibiscus plants are also easy to grow, so if you are looking for an affordable gift idea this season, consider giving someone the gift of their own hibiscus plant! Hibiscus plants are beautiful, easy to grow, and will last for years if cared for properly. If you are looking for a gift idea that will not cost much but will add beauty to your loved one's home, consider giving them their own hibiscus plant!
Hibiscus plants are one of the most popular flowering plants for homes around the world. They are easy to grow, but you do need to make sure that your hibiscus plant gets plenty of light and water. If you're looking for an affordable gift idea, consider giving someone their own hibiscus plant! Hibiscus plants are beautiful, easy to grow, and will last years if cared for properly.
Sunflowers
Sunflowers are a traditional symbol of love, and for good reason. They are easy to grow in all kinds of soil, they can be planted in pots or grown in the ground, and they have bright yellow petals that make them an eye-catching addition to any garden. Sunflowers are also great first-time gardeners because they do not need much care: they just need plenty of sun and water!
Sunflowers are one of the easiest plants to grow, and they are a great choice for beginners. They can be grown indoors or outside, but they need lots of sunlight to grow well. Sunflowers do not need much care once they're planted, but they do require regular watering during dry periods.
Calla lilies
Calla lilies are a mid-summer flower and symbolize purity, beauty and romance. Their large white or pinkish blooms have an elegant look that can be used to express your feelings for someone special. Calla lily flowers are also available in other colors such as yellow or purple, although they will still carry the same meaning. The calla lily flower has an exotic look that makes it a popular choice for bouquets and other arrangements. You can buy calla lily flowers from florists or grow your own in your garden or on your balcony. If you're growing them yourself, keep reading to learn how to care for calla lilies so that you can enjoy their beautiful blooms for years to come.
Gerbera daisies
The Gerbera daisy is a symbol of joy and happiness. It is also said to represent friendship, love and royalty. The daisy has been used as a symbol of abundance since ancient times. It is believed that the daisy was used as a crown for Greek gods and goddesses, and later became associated with royalty. The daisy has also been a symbol of friendship since ancient times.
Zinnias
Zinnias are a great choice for summer flowers. They are bright and colorful, making them perfect for bouquets or cutting flowers. They are also easy to grow, making them a good option for beginners. Another thing to consider is whether you want cut or fresh flowers. Cut flowers are a great option if you want to arrange bouquets or give them as gifts. They are also great if you want to add some color to your home. If you are looking for something that will last longer, fresh cut flowers are a good option. They can be used in arrangements or just enjoyed as they are.
Cosmos flowers
If you are looking for a flower that will last through the summer and into fall, cosmos flowers are a great choice. They are easy to grow, and they make excellent mid-summer romance plants. Cosmos flowers are also known as "bouquet cosmos" or "whirling butterflies." These types of cosmos have large blooms with multiple petals in shades of white, yellow and orange. The stems are sturdy enough that they can handle being cut without wilting immediately after being put in water (unlike some other types of flowers).
These plants produce long stems with lots of buds at once–and if you leave them alone for a few days after cutting them from their stems, they will continue opening up into beautiful blossoms! You can arrange these bouquets on your coffee table or on top of your nightstand for easy access when it's time for romance time (or just because).
Cosmos flowers are some of the easiest flowers to grow, and they make excellent cut flowers. If you are just starting out as a gardener, cosmos are a great choice because they're so easy to care for. They can thrive in containers or in your garden bed–just be sure that you have plenty of sun exposure and fertile soil before planting them!
Carnations and Pinks
Carnations and pinks are the perfect flowers to give your significant other this summer. They are easy to grow at home and they add a touch of color to any room. If you are looking for something that will last longer than just a few days, carnations are also great options!
Carnations are one of the most popular flowers around due to their versatility and ability to be used in arrangements with other types of flowers or even alone on their own little stand or vase. They come in many different colors such as reds, pinks (or mauves), whites, yellows etc… Their petals are usually notched which gives them an elegant look when used as part of an arrangement with other kinds of blooms such as roses or daisies for example, however if you want something simple then consider just having one single stem placed directly into water so it can float freely without being weighed down by any additional items like leaves/twigs etc.
The carnation is a type of flower that you may have heard of before. They come in many different colors, but most commonly they are white or pink. Carnations are typically used for weddings because they last longer than some other flowers and they are also very affordable to buy! If you want to give someone a gift of flowers this summer then consider giving them carnations because they're sure to love them.
Roses (Red, Yellow, White)
Roses are a classic romantic flower, often given on birthdays, anniversaries and other important occasions. They are also a symbol of love and beauty. Roses come in many different colors and varieties. Roses are often given as a symbol of love and beauty. They come in many different colors and varieties, including red, white and yellow. Roses have been used throughout history to represent many things, including passion, youthfulness and perfection. Give these mid-summer romance flowers to show your love.
Flowers are one of the most common gifts for Valentine's Day, and they make an excellent choice for any other occasion. You can give flowers to your loved ones on any day of the year, but there are certain times when you should consider giving them even more than usual. If you want to show your love in a big way this summer, here are some great options:
If your significant other has been working hard and you want to show your appreciation, go big with roses or another flower that is associated with romance.
If you are celebrating an anniversary or birthday, choose a bouquet that matches the occasion. You could pick something up from the store and keep it simple, or you can order online and make sure there are extras for future anniversaries or birthdays.
Conclusion
We hope you enjoyed our list of mid-summer romance flowers. If you are looking for something a little more exotic, we also have some great options that are perfect for showing off your love. These include orchids and even roses in different colors! If all else fails, why not try giving some fresh cut flowers from your local florist?
Pugh's Flowers Provides Same Day Delivery of Romance and all Types of Floral Products to Bartlett Tennessee
Voted Best Florist In 2018
Pugh's Flowers is a family owned and operated floral design firm. We have more than 40 years of experience designing and delivering flowers in the Memphis and Bartlett Tennessee area. We first opened our doors back in 1976. Our company was started by our father, Bill Pugh. Today, the firm is run by two of Bill's three sons. Michael Pugh handles the administrative piece of the business, while brother Tim handles all of the operations duties. Brother Mark, runs the family's thriving landscape business. In addition to flowers and landscaping, the Pugh family also operates a third business called Rosie's Pest Control.
Pugh's Flowers operates four floral design centers in the greater Memphis metropolitan area. We employee a super talented group of designers and support personnel. Our design team is well known for their unique, artistic and creative floral designs. We offer a wide variety of fresh flowers and sell more roses than anyone in Memphis. If you haven't seen our roses, you are missing out. They come from Ecuador and have longer stems and larger blooms. They are absolutely gorgeous. Looking for something really unique? We carry all of the favorite flower varieties.
Planning to get married soon? We offer a Free wedding consultation for every new prospective bride. Our wedding specialists can help you create the perfect floral theme for your special day. In addition to weddings, our firm also handles designs for commercial clients, special occasions, parties and for corporate events. Our firm is large enough to handle a weddings or event of any size.
Pugh's offers a great selection of occasion themed flower arrangements. We carry arrangements and gifts for virtually every special occasion & event you can think of. Many of the fresh flowers we sell come farm-direct to us. That ensures that we can offer the finest, freshest, highest quality flowers in Bartlett. We carry gorgeous Ecuadorian long stem roses, stunning cymbidium and dendrobium orchids, dazzling lilies and all your traditional favorites. Looking for something other than a flower arrangement? You have come to the right place. Pugh's has the best selection of green, tropical and flowering plants in the area. We have everything from emerald garden baskets, to hanging plants to traditional dish gardens. We also sell gourmet gift and fruit baskets. We fill them with lots of gourmet treats, including Godiva chocolates, fresh seasonal fruit and other wonderful edible delights.
Pugh's Flowers offers same day flower delivery to all Shelby County Hospitals, Funeral Homes and Mortuaries. We also have a floral design center in Southaven, MS. We make daily deliveries in the Southaven Mississippi area as well. We invite you to do your shopping on our website. If you prefer, we also have four floral design centers available for you to come in and see our entireselection of flowers, plants and occasion themed gifts.
Pugh's Floral Design Center Locations
We operate four flower shops in the greater Memphis and Bartlett area. Pugh's also operates a floral design center in Southaven, Mississippi. Our main design and fulfillment center is located on Whitten Road, which is in Bartlett. Each of our design centers includes a beautiful customer showroom. We invite you to stop in and shop next time you are in the area. Our showrooms are filled with wonderful fresh flower arrangements, gorgeous green and flowering plants and gifts themed for all occasions.
Whitten Road: 2435 Whitten Rd. Bartlett, TN 38133 901-405-6670
Union Ave: 1882 Union Ave. Memphis, TN 38103 901-726-1042
Poplar Ave: 5645 Poplar Ave. Memphis, TN 38119 901-682-2501
Southaven MS: 3075 Goodman Rd. Suite 14 Southaven, MS 38672 662-342-1832
Same Day Flower Delivery In Bartlett Tennessee
Pugh's Flowers offers both local and nationwide delivery options. Locally we offer same day and express flower delivery service. Nationally, we offer same day flower service. We have a team of delivery drivers on staff. We also own a delivery courier firm called Lickety-Split Couriers. They handle the vast majority of all flower arrangements that we deliver locally. Every flower arrangements we deliver is guaranteed to arrive fresh and on-time. All come with our 100% customer satisfaction guarantee. If for any reason you don't like the arrangement that we have designed and delivered for you, please contact our floral design center and we will replace that arrangement free of charge.
Local Same Day Flower Delivery Available In These Bartlett Zip Codes
The zips below represent areas included in our local delivery zone for Bartlett. We do provide same day delivery anywhere in the USA, so in the event you need to send an arrangement to another city in Tennessee, or to another state, we well positioned to take care of that for you.
38133, 38134, 38135, 38184
Frequently Purchased Sympathy & Funeral Flower Arrangements
Pugh's Flowers provides daily flower delivery to all Shelby County and DeSoto county churches, mortuaries, funeral homes and cemeteries. We offer the best selection sympathy flowers in Memphis. If you need a custom design, our floral design staff is the best in town. They can create the precise funeral flower package you need.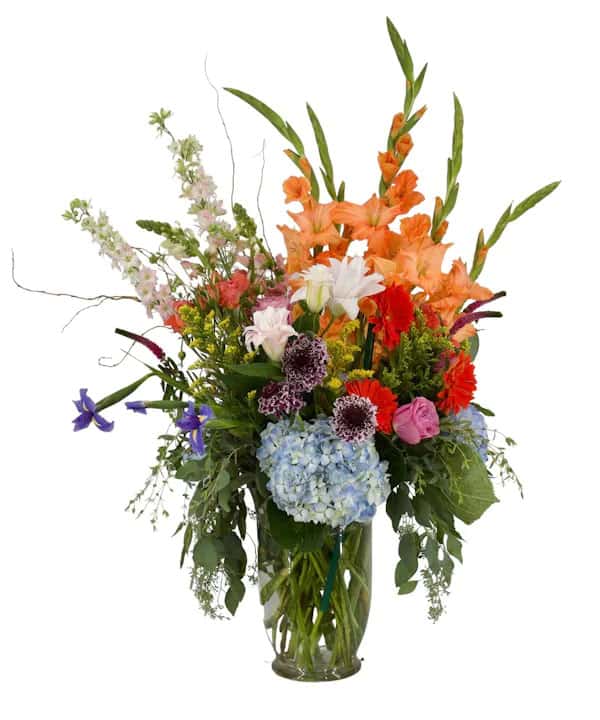 DELIGHTFUL BOUQUET
NOTE: Picture is the large sized vase. Small and medium will be similar but less stems according to price.
Flowers of all colors and types are artfully arranged in a clear glass vase and are always a favorite for their beauty and longevity. This one comes in three sizes, the more you spend, the more stems will come in your gift! Flowers and stems will vary according to availability.
Locations
WHITTEN ROAD
2435 Whitten Rd.
Memphis, TN 38133
(901) 405-6670
POPLAR AVENUE
5645 Poplar Ave.
Memphis, TN 38119
(901) 682-2501
UNION AVENUE
1882 Union Ave.
Memphis, TN 38103
(901) 726-1042
SOUTHAVEN, MISSISSIPPI
3075 Goodman Rd. Suite 14
Southaven, MS 38672
(662) 342-1832