Pugh's Flowers
Celebrate the hard work of all Americans this Labor Day with fresh and thoughtful Labor Day Flowers and Plants. Flowers and Plants are the perfect Labor Day gift, and our Floral Designers are ready to prepare an arrangement they will love:
Discount Offers – Use on Main Website
Labor Day Flowers and Plants
Flowers and plants are always a great choice because they can brighten up any room. Plus, they will be able to enjoy them long after Labor Day passes by. Plan an outing where everyone brings their favorite plant or flower as part of the festivities — it will be fun for everyone involved! If you are feeling extra ambitious, you can even consider hosting a Labor Day party. Have everyone bring their favorite plant or flower and have it can be the theme of the day! There is nothing like fresh flowers to brighten up any room — and they will last for a long time after Labor Day passes by.
Here are a few flower and plant ideas for how you can celebrate this holiday with your favorite hardworking people:
Calla Lilies
Calla lilies are an excellent choice for Labor Day flowers and plants. They're a great gift for your loved ones, easy to grow and maintain, available in a variety of colors and they look stunning when you bring them indoors during the colder months. Calla lilies bloom from mid-summer until early fall so there's no need to worry about them dying out before you've had enough time with them!
They are also excellent for indoor arrangements and can be used to create beautiful centerpieces that will last all year long. The only downside is that they don't like to be moved around too much so if you want to move them from one room to another, make sure you do it while they're still in bloom.
Chrysanthemums
Chrysanthemums are a traditional flower for Labor Day. They are also the official flower of Hawaii, where they are traditionally used in leis and as part of a celebration called "Aloha Week." Chrysanthemums are easy to grow and maintain and can be purchased at most garden centers or home improvement stores. They are a hardy flower that can be planted in your garden or in pots on your patio.
Roses
Roses are a classic flower and make an excellent gift for any occasion. Roses come in a variety of colors, sizes, and even shapes. Depending on where you live and what time of year it is, roses may be available locally or shipped from elsewhere. Roses can be used as centerpieces or bouquets for parties or dinners with friends and family members. The rose can be used as a symbol of love and beauty, but it also has other meanings. The most common meaning is that roses represent romance or passion. In this sense, they are often given as tokens of affection to someone you are romantically interested in.
Carnations
Carnations are the most popular flower in the world, and for good reason. They come in a wide range of colors and sizes, ranging from petite to large blooms. Carnations are also easy to grow and maintain, making them a great choice for anyone who wants to have beautiful flowers without having to spend too much time caring for them. Carnations make excellent choices for weddings–especially if you want something simple but elegant that does not involve any complicated arrangements or designs (or if your budget is limited). They are also an excellent choice if you are looking for something inexpensive yet still memorable on birthdays or other special occasions like Mother's Day or Valentine's Day!
Carnations are also extremely long-lasting, making them great gifts for anyone who has to travel. You can find carnations in a wide range of colors and designs, making it easy to find something that will match any occasion or style. Carnations are also very easy to grow. In fact, they are often referred to as "the poor man's rose" because they are so low maintenance that even someone with a limited amount of gardening experience can easily take care of them without any problems. This makes them an excellent option for anyone who wants beautiful flowers but does not have a lot of time or money to spend on gardening!
Gerberas
Gerberas. are a popular flower for Labor Day, gerberas are easy to grow and available in a variety of colors. Plant them outdoors or indoors and enjoy their bright blooms for weeks on end.
Zinnias
Zinnias make excellent cut flowers, but they can also be planted as annuals if you live in a warm climate where they will thrive year-round! They come in a wide range of colors from red to yellow to orange–the perfect way to add some color to your home this fall!
Lavender
Lavender is a perennial plant with fragrant, purple flowers. It can be grown in pots and will bloom from summer to fall if you keep it well watered. Lavender grows best in full sun to partial shade but can tolerate some shade as long as there are at least six hours of direct sunlight each day. Lavender plants require regular watering and plenty of sunlight, but you should also be careful not to over-water them. If your plant starts wilting in the heat of summer, it's probably time to give it some relief from the heat by moving it into an area with less direct sunlight. Lavender plants are easy to maintain, but they do have some specific needs that should be considered before you plant them.
Succulents (Indoor & Outdoor)
Succulents are an easy and beautiful choice for your home this Labor Day. Succulents are drought tolerant plants that need little care, making them ideal for busy people who want to add greenery to their homes without having to spend a lot of time tending to it. If you are looking for something that requires less maintenance than other plants, succulents are the way to go! They are also easy to propagate through cuttings or division, so if one of your existing plants dies or fails after several years in your home (a common occurrence with many types of houseplants), there is no need to throw it out; simply take some cuttings from another healthy plant and start over again!
Succulents survive outdoors in many regions. You can plant them in containers and keep them on your porch or patio, or you can place them directly into the ground at home. If you live in a region with cold winters and freeze temperatures, you'll need to bring your succulents inside during the cold months (or simply replace them with other types of plants).
Sunflowers (Indoor & Outdoor)
Sunflowers are a great choice for Labor Day, and they can be used as a centerpiece or bedding plant. They are easy to grow, making them perfect for beginners. Sunflowers will grow in almost any environment, so you can plant them indoors or out! They are also easy to care for, making them perfect for busy gardeners. Sunflowers grow best in full sun and soil that is rich in nutrients. If you do not have a green thumb, don't worry! Sunflowers are easy. In addition, they are also a great choice for beginners, as they are easy to grow and care for. In fact, sunflowers are so easy to grow that many people say they are virtually foolproof plants! They will thrive in almost any environment, including indoors or out.
Conclusion
Labor Day Flowers and Plants are the perfect gift for anyone in your life who appreciates fresh, beautiful flowers. With so many options available, you will be sure to find something that fits their tastes and needs perfectly. Whether they are looking for something simple like sunflowers or something more exotic like succulents, these gifts will brighten up any room in their house!
Pugh's Flowers Offers Beautiful Labor Day Flowers and Plants for Same Day Delivery
Pugh's Flowers operates a floral design center in Southaven, Mississippi. We offer both same day and express flower delivery service in the Southaven area. For customers who need to send flowers outside of our local delivery zone, we also offer nationwide same day flower delivery. Pugh's has been offering service to residential and business customers in Southaven for more than 40 years. We own a fleet of Pugh's flower delivery vehicles. We also own a delivery company called Lickety-Split Couriers. Both are used to complete fresh flower deliveries in the Southaven area. Our local delivery zone includes all of the greater Memphis metro area, Shelby and DeSoto Counties.
In 1976, Bill Pugh opened the doors of Pugh's Flowers. Today, all day to day flower shop operations are the responsibility of brothers Michael and Tim Pugh. Michael handles all of the administrative and financial duties, while brother Tim handles all operational issues for the flower shops. The Pugh's family owns a number other businesses as well. As mentioned earlier, they own Lickety-Split Couriers. They also own a very successful landscape firm, known as Pugh's Earthworks, which brother Mark Pugh runs. At Pugh's, we are extremely blessed to have built a professional, customer focused employee team.
Any successful flower shop is built around the floral design team. We have one of the finest groups of flower designers anywhere in Tennessee. Our operations staff and sales staff are also top notch. They are customer focused, motivated and dedicated folks. Our delivery operation is second to none. The staff at Pugh's prides itself in creating flowers the leave the recipients saying "Wow." Our focus is on designing traditional, contemporary and ultra modern metropolitan floral designs.
Each flower arrangement comes with our 100% customer satisfaction guarantee. We create everything from a traditional dozen red roses, to some of the most stunning fresh flower arrangements you have ever seen. We carry all of the areas favorite flower varieties. We have a great selection of Oriental, Stargazer and Asiatic Lilies. We have the best Ecuadorian roses in town. Our gerbera daisies, tulips, carnations and full bloom hydrangea are absolutely gorgeous. Looking for something exotic. We carry beautiful fresh Protea and the prettiest Cymbidium and Dendrobium Orchids in Southaven. Our firm designs for all occasions, including weddings and corporate events. We are large enough to handle weddings and events of any size.
Pugh's offers a great selection of occasion themed flower arrangements. We have Birthday flowers, Anniversary Flowers, Get Well arrangements, Sympathy flowers and gifts for virtually every special occasion & event you can think of. Many of the fresh flowers we sell come farm-direct to us. That ensures that we can offer the finest, freshest, highest quality flowers in Southaven. We carry gorgeous Ecuadorian long stem roses, stunning cymbidium and dendrobium orchids, dazzling oriental, stargazer and asiatic lilies and all your traditional favorites.
Looking for something other than a flower arrangement? You have come to the right place. Pugh's has the best selection of green, tropical and flowering plants in the area. We have everything from emerald garden baskets, to hanging plants to traditional dish gardens. We also sell gourmet gift and fruit baskets. We fill them with lots of gourmet treats, including Godiva chocolates, fresh seasonal fruit and other wonderful edible delights.
Pugh's Flowers offers same day flower delivery to all Shelby County Hospitals, Funeral Homes and Mortuaries. We also have a floral design center in Southaven, MS. We make daily deliveries in the Southaven Mississippi area as well. We invite you to do your shopping on our website. If you prefer, we also have four floral design centers available for you to come in and see our entire selection of flowers, plants and occasion themed gifts.
Pugh's Floral Design Center Locations
We operate four flower shops in the greater Memphis and Southaven area. Our Southaven flower shop is one of the most frequently visited of all the store locations we operate. Our main fulfillment center is located on Whitten Road in Bartlett.
Whitten Road: 2435 Whitten Rd. Bartlett, TN 38133 901-405-6670
Union Ave: 1882 Union Ave. Memphis, TN 38103 901-726-1042
Poplar Ave: 5645 Poplar Ave. Memphis, TN 38119 901-682-2501
Southaven MS: 3075 Goodman Rd. Suite 14 Southaven, MS 38672 662-342-1832
Same Day Flower Delivery In Southaven Tennessee
Pugh's Flowers offers both local and nationwide delivery options. Locally we offer same day and express flower delivery service. Nationally, we offer same day flower service. We have a team of delivery drivers on staff. We also own a delivery courier firm called Lickety-Split Couriers. They handle the vast majority of all flower arrangements that we deliver locally. Every flower arrangement we deliver is guaranteed to arrive fresh and on-time. All come with our 100% customer satisfaction guarantee. If for any reason you do not like the arrangement that we have designed and delivered for you, please contact our floral design center and we will replace that arrangement free of charge.
Local Same Day Flower Delivery Available in These Southaven Zip Codes
The zips below represent areas included in our local delivery zone for Southaven. We do provide same day delivery anywhere in the USA, so in the event you need to send an arrangement to another city in Tennessee, or to another state, we well positioned to take care of that for you.
38671, 38672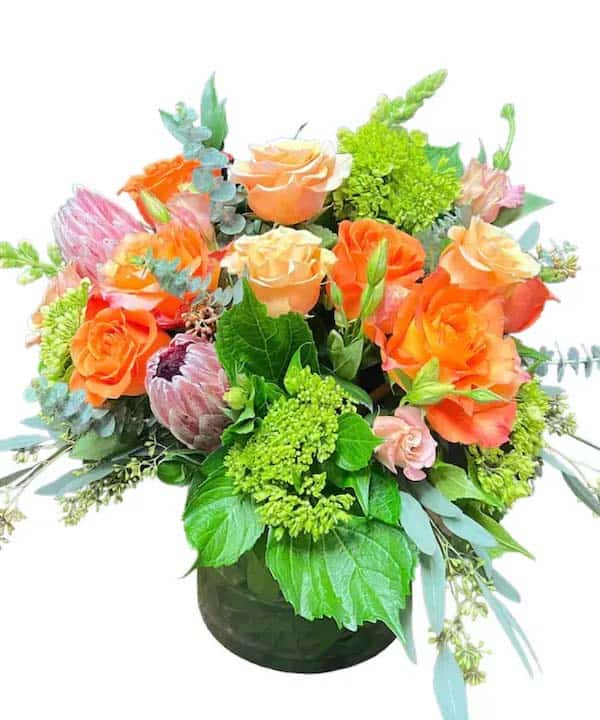 FREE SPIRIT
This tropical bouquet is called the Free Spirit because it is filled with Free Spirit roses, hydrangea, tropical protea, and more!
Locations
WHITTEN ROAD
2435 Whitten Rd.
Memphis, TN 38133
(901) 405-6670
POPLAR AVENUE
5645 Poplar Ave.
Memphis, TN 38119
(901) 682-2501
UNION AVENUE
1882 Union Ave.
Memphis, TN 38103
(901) 726-1042
SOUTHAVEN, MISSISSIPPI
3075 Goodman Rd. Suite 14
Southaven, MS 38672
(662) 342-1832