Pugh's Flowers
One major responsibility of Professional Floral Designers is to ensure their customer's events are a big success. Whether it is an intimate gathering or a grand affair, they will set up the best floral design to compliment your vision and budget. Our team of compassionate and detail minded designers use fresh farm grown flowers and their creative skills to produce the most stunning flower arrangements in the industry.
Discount Offers – Use on Main Website
Floral Design
Floral design is a creative art form that uses floral materials to produce artistic designs. Floral designers use a variety of mediums, including fresh and dried flowers, foliage, fruits and vegetables as well as other products such as bamboo stalks, grasses or feathers. They often work with an arranger or florist to create finished pieces for customers in the wedding industry or for retail sale at florists' shops.
Floral design can be used in the making of floral arrangements (such as bouquets), corsages/boutonnieres and other creations such as wreaths or centerpieces. The term "floral designer" may also refer more specifically to people who create custom-made wedding bouquets on behalf of clients who are getting married at their own homes rather than having them done professionally by a florist. A person who designs floral arrangements but does not work with live plants (i.e., someone who uses only dried materials) would not normally be considered a "florist".
Floral designers are often trained at trade schools or colleges and may be certified by the American Institute of Floral Designers. Floral designers can also be involved with the design of floral decorations for interiors, such as furniture or walls. Floral design is often used in wedding planning as well as other types of celebrations such as birthday parties and anniversaries.
Floral Design Skills
Floral designer skills are varied, and they can be broken down into five categories: creative, technical, organizational, business and interpersonal. The most important of these is creativity; floral designers must have a natural talent for designing flowers and plants to create beautiful arrangements. They also need to have excellent taste in color schemes and textures so that their designs look attractive from every angle. They must be able to visualize a finished product before starting work on it–and if something doesn't turn out right during construction (which happens often), they must know how to fix it quickly.
Interpersonal skills are important because floral designers often work directly with customers on their projects; this means having patience when explaining what goes into making certain types of arrangements or why certain elements won't work together well visually. Floral artists also need good communication skills so they can relay instructions clearly when working with other employees such as florists or delivery drivers who may not understand exactly what type of arrangement needs delivering where without some guidance!
Floral designers are also responsible for keeping their own work areas clean and organized so that they can quickly find what they need when they need it. They may spend a lot of time on their feet, so this job requires stamina as well as physical strength.
Floral designers must be able to move quickly and perform various tasks that include cutting flowers, arranging them in vases or baskets, and tying them together with ribbons. They may also need to create new arrangements from scratch if an order is very large or requires specific styles not currently on hand at the shop.
Floral Designer Education
The path to becoming a floral designer is not always an easy one. If people are interested in pursuing this career, there are many different educational options available. They can enroll in an accredited florist school or apprenticeship program and learn from industry-experienced instructors. There are also many online courses available that can teach the skills needed to become a successful florist.
Benefits of Professional Floral Design
Floral design is a great career choice for creative people that enjoy working with plants. They use that creativity to create beautiful arrangements, working in a wide variety of settings and industries. Depending on where they work, salary ranges are quite high for florists. The average salary for a florist is $35,000 to $45,000 per year. However, if they have their own shop or work for a high-end company, they could make more than that. Floral designers work with flowers, foliage, and other natural materials to create floral arrangements for customers. They may also design floral displays for weddings or other events. Floral designers can work in many different industries, from boutiques to florists' shops to corporations.
Popularity Floral Design
Why floral design is so popular, and what the benefits are of becoming a Floral Designer. Let us take a look at some of the reasons why this career choice is so appealing:
Floral Designers have the opportunity to work with plants, flowers, and other natural materials in their daily work. This can be very rewarding both physically and emotionally because they get to see how their efforts impact others' lives on a daily basis.
They will also get plenty of opportunities for creativity with florals–and will be able to use imagination on new designs every day! Sometimes people might even find themselves coming up with entirely new types of flower arrangements that no one has ever seen before!
There is always something exciting happening in the world of florals (e.g., new innovations in technology) which means there will always be something new to learn about as well as ways for improving upon what has already been done before by other designers before him/herself."
Flowers are beautiful, and being able to design them can be very rewarding. Designers will get to work with plants and other natural materials, which can be a very fulfilling experience that not many people get to have in their careers. There are plenty of opportunities for creativity.
Floral Design Trade
Floral design is the art of arranging flowers and other botanicals to create a pleasing composition for aesthetic and/or symbolic purposes. The purpose of floral design may be simply to make something beautiful, or it may have a more specific function like creating an arrangement for display or sale. Floral designers must be creative and able to think outside the box. They should also have a good sense of color and be able to create arrangements that look beautiful as well as functional.
Floral designers work in a variety of settings, such as shops that sell cut flowers, florists' shops (where they are known as florists), wedding planners who arrange bouquets for weddings and other special events and private individuals who want help making their home look nicer with fresh flowers around it. There are also opportunities in art galleries where you can display your own arrangements alongside paintings or photographs on display there; this could be done on commission basis or simply as part of an exhibition where artists have been invited by curators from all over North America to display their work.
Conclusion
The floral design trade can be a lucrative one, as it is a service that people need every day. However, it can also be difficult to get started in this industry if individuals do not know where to begin. It takes time and effort to build up a loyal client base, but our professionals keep customers coming back to purchase or all occasions! Contact us today!
Pugh's Flowers Employs Dedicated and Highly Skilled Floral Designers
Pugh's Flowers operates a floral design center in Southaven, Mississippi. We offer both same day and express flower delivery service in the Southaven area. For customers who need to send flowers outside of our local delivery zone, we also offer nationwide same day flower delivery. Pugh's has been offering service to residential and business customers in Southaven for more than 40 years. We own a fleet of Pugh's flower delivery vehicles. We also own a delivery company called Lickety-Split Couriers. Both are used to complete fresh flower deliveries in the Southaven area. Our local delivery zone includes all of the greater Memphis metro area, Shelby and DeSoto Counties.
In 1976, Bill Pugh opened the doors of Pugh's Flowers. Today, all day to day flower shop operations are the responsibility of brothers Michael and Tim Pugh. Michael handles all of the administrative and financial duties, while brother Tim handles all operational issues for the flower shops. The Pugh's family owns a number other businesses as well. As mentioned earlier, they own Lickety-Split Couriers. They also own a very successful landscape firm, known as Pugh's Earthworks, which brother Mark Pugh runs. At Pugh's, we are extremely blessed to have built a professional, customer focused employee team.
Any successful flower shop is built around the floral design team. We have one of the finest groups of flower designers anywhere in Tennessee. Our operations staff and sales staff are also top notch. They are customer focused, motivated and dedicated folks. Our delivery operation is second to none. The staff at Pugh's prides itself in creating flowers the leave the recipients saying "Wow." Our focus is on designing traditional, contemporary and ultra modern metropolitan floral designs.
Each flower arrangement comes with our 100% customer satisfaction guarantee. We create everything from a traditional dozen red roses, to some of the most stunning fresh flower arrangements you have ever seen. We carry all of the areas favorite flower varieties. We have a great selection of Oriental, Stargazer and Asiatic Lilies. We have the best Ecuadorian roses in town. Our gerbera daisies, tulips, carnations and full bloom hydrangea are absolutely gorgeous. Looking for something exotic. We carry beautiful fresh Protea and the prettiest Cymbidium and Dendrobium Orchids in Southaven. Our firm designs for all occasions, including weddings and corporate events. We are large enough to handle weddings and events of any size.
Pugh's offers a great selection of occasion themed flower arrangements. We have Birthday flowers, Anniversary Flowers, Get Well arrangements, Sympathy flowers and gifts for virtually every special occasion & event you can think of. Many of the fresh flowers we sell come farm-direct to us. That ensures that we can offer the finest, freshest, highest quality flowers in Southaven. We carry gorgeous Ecuadorian long stem roses, stunning cymbidium and dendrobium orchids, dazzling oriental, stargazer and asiatic lilies and all your traditional favorites.
Looking for something other than a flower arrangement? You have come to the right place. Pugh's has the best selection of green, tropical and flowering plants in the area. We have everything from emerald garden baskets, to hanging plants to traditional dish gardens. We also sell gourmet gift and fruit baskets. We fill them with lots of gourmet treats, including Godiva chocolates, fresh seasonal fruit and other wonderful edible delights.
Pugh's Flowers offers same day flower delivery to all Shelby County Hospitals, Funeral Homes and Mortuaries. We also have a floral design center in Southaven, MS. We make daily deliveries in the Southaven Mississippi area as well. We invite you to do your shopping on our website. If you prefer, we also have four floral design centers available for you to come in and see our entireselection of flowers, plants and occasion themed gifts.
Pugh's Floral Design Center Locations
We operate four flower shops in the greater Memphis and Southaven area. Our Southaven flower shop is one of the most frequently visited of all the store locations we operate. Our main fulfillment center is located on WhittenRoad in Bartlett.
Whitten Road: 2435 Whitten Rd. Bartlett, TN 38133 901-405-6670
Union Ave: 1882 Union Ave. Memphis, TN 38103 901-726-1042
Poplar Ave: 5645 Poplar Ave. Memphis, TN 38119 901-682-2501
Southaven MS: 3075 Goodman Rd. Suite 14 Southaven, MS 38672 662-342-1832
Same Day Flower Delivery In Southaven Tennessee
Pugh's Flowers offers both local and nationwide delivery options. Locally we offer same day and express flower delivery service. Nationally, we offer same day flower service. We have a team of delivery drivers on staff. We also own a delivery courier firm called Lickety-Split Couriers. They handle the vast majority of all flower arrangements that we deliver locally. Every flower arrangement we deliver is guaranteed to arrive fresh and on-time. All come with our 100% customer satisfaction guarantee. If for any reason you don't like the arrangement that we have designed and delivered for you, please contact our floral design center and we will replace that arrangement free of charge.
Local Same Day Flower Delivery Available in These Southaven Zip Codes
The zips below represent areas included in our local delivery zone for Southaven. We do provide same day delivery anywhere in the USA, so in the event you need to send an arrangement to another city in Tennessee, or to another state, we well positioned to take care of that for you.
38671, 38672
We Provide Same Day Flower Delivery to These Southaven Area Hospitals
Saint Francis Hospital
2986 Kate Bond Rd, Southaven, TN 38133
(901) 820-7000
St Jude Children's Research Hospital
5796 Shelby Oaks Dr, Southaven, TN 38134
(901) 213-5700
Southaven VA Medical Center
1030 Jefferson Ave, Southaven, TN 38104
(901) 523-8990
Methodist University Hospital
1265 Union Ave, Southaven, TN 38104
(901) 516-7000
Saint Francis Hospital
5959 Park Ave, Southaven, TN 38119
(901) 765-1000
St. Jude Children's Research Hospital
262 Danny Thomas Pl, Southaven, TN 38105
(901) 595-3300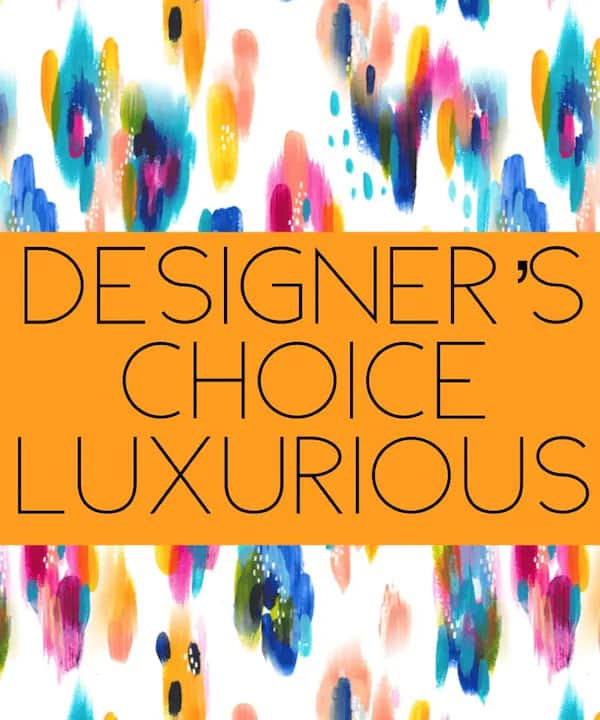 DESIGNER'S CHOICE LUXURIOUS
This arrangement will be designed as a one-of-a-kind, unique arrangement by one our talented designer's. This will be a high style arrangement with premium stems chosen by the designer!
Locations
WHITTEN ROAD
2435 Whitten Rd.
Memphis, TN 38133
(901) 405-6670
POPLAR AVENUE
5645 Poplar Ave.
Memphis, TN 38119
(901) 682-2501
UNION AVENUE
1882 Union Ave.
Memphis, TN 38103
(901) 726-1042
SOUTHAVEN, MISSISSIPPI
3075 Goodman Rd. Suite 14
Southaven, MS 38672
(662) 342-1832